8 Best Co-Parenting Apps (Free and Paid)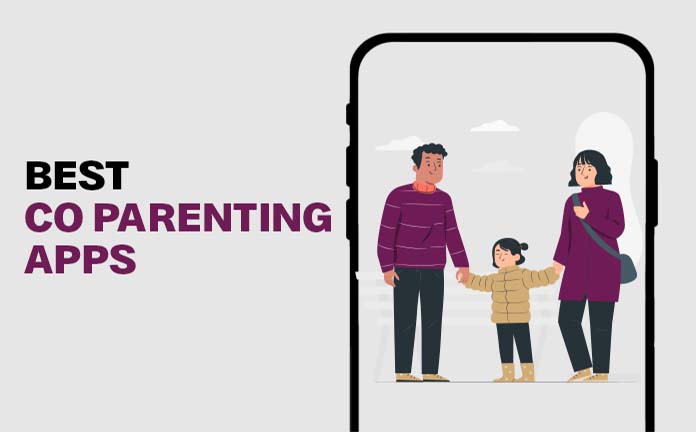 Here are best co-parenting apps every divorced parents or those living far away from each other should consider for better parenting after divorce. Let's check out free and paid apps available online.
Parenting is not easy work; if you are a single parent or stay away from your spouse, it's more difficult. You can split your responsibilities, but it's challenging to catch up. Parents need to be organized, and in the case of co-parenting, it is even more required. To make this task easy for you, many co-parenting apps are available to assist you in managing a child's core responsibilities.
What is Co-Parenting App?
Co-parenting app is a kind of mobile or web application designed to make parenting easy even after divorce. It assists parents in coordinating with each other in case they are staying away from each other and ensures parents do not miss any of the vital events of their child.
Simply put, it's an app that helps split the daily chores between two parents. Both paid and free co-parenting apps are available, but paid ones are packed with many amazing features.
Benefits of Co-Parenting Apps
When parents are separated or divorced, it becomes difficult for the child to manage things. It affects a child's mentality a lot, but the mobile app development companies have created several co-parenting apps, parents can use to make things easy for their child. But both parents have to agree to divide their child's responsibility cordially.
Here are a few major ways in which a good co-parenting app can help:
Helps in splitting responsibilities easily: A good co-parenting communication application helps split the responsibilities when the matter concerns taking care of their child. These apps allow parents to remain on track and stay accountable.
Decreases the need to visit family courts: With the help of co-parenting apps, parents can decrease their visits to family courts as they get approval from law attorneys. In addition, you can also easily keep all your files, take appointments and store your documents through these applications.
It assists in lowering stress: For those parents who do not want to talk with each other, these apps offer a peaceful way to communicate with each other. Users can easily communicate by sending messages, voice notes, expense files, upcoming events, and many more without speaking to each other.
So, now that you know about the potential benefits of co-parenting apps, you might be thinking of using them. But you need to choose the best co-parenting app to avail all benefits. Here are top co-parenting apps that can help both of you in sharing the responsibilities of your child –
List of Best Co-Parenting Apps
1. 2Houses Co-Parenting App (Paid)
It is one of the best co-parenting apps that allow parents to remain in touch with each other through various messaging features by setting up calendar appointments and sharing detailed reports for analysis of finances. It offers a 14-day free trial for parents to try the platform and the required space for storing various documents.
It uses the platform web, iOS and Android, and after a free trial, the app charges $6.49/month.
Important Features
Helps in managing and keeping a good track of all expenses.
Assists in syncing calendar events, activities, appointments and vacation dates.
Allows parents to set up some parenting schedules, remain organized and repeat visits.
2. SharedCare (Free)
This is a simple app that works great for co-parents and also for other people who are involved in that children's lives, like grandparents, uncles, nannies etc.
Important Features
Expenses tracker – This feature helps keep track of all child-based expenses like school fees, pocket money and medical bills.
Shared calendar – With these features, everyone will remain across the vital dates and schedule.
Group news feed – An important feature that ensures parents do not miss any events or milestones.
3. FamCal (Free)
This is an app that has been designed to keep families connected. A shared calendar helps share dates, tasks, notes and all tasks in one place so that all are in sync and perfectly organized. It is free to download and use.
Important Features
Family calendar and notes: With these features, you can easily colour-code people and events, set up several reminders and share all important events.
Tasks and list: Share all your grocery lists, assign tasks and make work schedules.
4. Cozi (Free)
Cozi is a simple and minimalist application that is available for free. With its basic version, parents can set up schedules, generate to-do lists and share all recipes and photos for reliable communication. It uses the platforms iOS and Android.
Important Features
Tracking school events and sharing grocery lists.
Generate virtual class schedules and set up appointment reminders.
5. Talking Parents (Paid)
In some cases, talking only helps resolve all disputes, but things always do not go as planned. Talking Parents is an application that helps its users make voice recordings and stores them on the application for keeping as a piece of evidence for communications. This assists in preventing conflicts later on, and it also contains space for a shared calendar. The platform used here is the iPhone and Android, and the price is $19.99/month.
Important Features
Offers liable calling and storage of file.
It also has shared calendar appointments, photo storage etc.
6. Google Calendar (Paid)
Are you looking for a free and reliable way to sync your calendar appointments on your phone with the co-parent? Then Google calendar is one of the best options. In android devices, it is available pre-installed and is very easy to use. The platform used here is the web, Android and iOS.
The charge for using this app is $10/month for unlimited storage and Vault.
Features
Setting up reminders for all upcoming events.
Generate events and schedules.
Make several appointments and calendars.
7. Our Family Wizard (Paid)
It is a legally approved co-parenting app for Android and iPhone devices that has been trusted since 2001. It facilitates co-parents in resolving disputes through documentation of reimbursements, joint expenses and many more.
Attorneys and all mental health experts often recommend it.
The platform used here is Android and iOS. The subscription charge is $99/per year.
Important Features
Subscribers of this app get access to a complete set of tools for co-parenting, from colour-coded kid's custody calendars to shared schedules, storage of family information, etc.
For transmitting payments, keeping track of expenses and keeping a collection of documentation.
8. CoParently (Paid)
CoParently is an app that helps parents manage their children's plans without getting astounded. It has many features that help store medical data, appointments and upcoming events.
With this app, users can generate free guests, professional accounts and many more.
The platform used here is a website, and the monthly price is $9.99/month after a free trial period of 30 days.
Important Features
Customized calendars and features for scheduling appointments easily.
Helps in making transparent communication.
Conclusion
By now, you must have some ideas on co-parenting apps, so take your time exploring and checking what works best for you and your partner. Your child is your priority, and all these co-parenting apps have been made in a way that is helpful for you and your child. It's your own choice. So, try giving some of the apps a try before taking the final decision.
Your goal for using a co-parenting app is to enhance the frequency, convenience and quality of your continuing communication. Make sure you select an option that works best for you, and you're your child's co-parent.