Decoding Blockchain App Development Cost: A Comprehensive Guide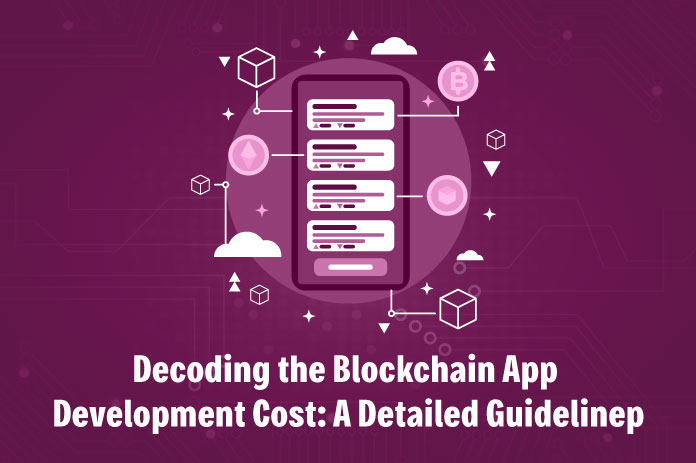 In recent years, the world has witnessed a profound shift towards a decentralized digital landscape known as Web 3.0. This transformation has spurred a significant surge in the demand for blockchain technology, promising to revolutionize how businesses operate and transact. Blockchain technology offers a robust, well-designed, and transparent distributed system that can ensure maximum return on investment (ROI) for business owners.
A recent report by Grandviewresearch predicts that the global market share of blockchain technology will reach a staggering $1,431.54 billion by 2030, with a compound annual growth rate (CAGR) of 85.9% from 2022 to 2030. This rapid growth opens up limitless opportunities for tech-savvy entrepreneurs to successfully pivot their businesses in this dynamic environment.
Estimating Blockchain App Development Costs
For investors looking to enter the blockchain technology market, understanding the cost of developing a blockchain application is crucial. Various factors impact the overall cost of blockchain app development, including the app's niche, user interface/user experience (UI/UX) design, initial coin offering (ICO) launch, proof of concept, and more.
The complexity of the blockchain application is a key determinant of both cost and development time. Let's break down the estimated blockchain development costs based on different complexity levels:
Blockchain App Types and Complexity
| Complexity-wise Blockchain App | Estimated Cost | Time Frame |
| --- | --- | --- |
| Simple Blockchain App | US$40,000 to US$60,000 | Three to Six months |
| Moderately to Complex App | US$60,000 to US$150,000 | Six to Eight months |
| High-end (highly) Complex App | US$150,000 to US$300,000 | More than Nine months |
To determine the precise cost of implementing blockchain for your business, you must categorize the blockchain solution you require. Blockchain solutions can be network-based or cryptocurrency-based, and our comprehensive blockchain app development guide can help you navigate the technicalities from scratch.
Breakdown of Blockchain Development Costs
A dedicated blockchain app development company, such as MXICoders Inc, can provide accurate cost estimates for various project milestones. Here's a breakdown of the percentage of costs associated with each milestone:
Initial Consult: 5%
UI/UX Design: 10%
Blockchain Development: 45%
Quality Assurance (QA): 25%
Deployment and Maintenance (AMC): 15%
Now, let's delve into the factors that can affect the cost of blockchain app development:
1. Agency Size
The size of the agency you choose can significantly impact costs. Large-cap companies, mid-sized blockchain app development agencies like us (mxicoders), and small-cap agencies each have their pricing structures. Mid-sized agencies often offer a balance between expertise and affordability.
Large Size Companies: $450,000 to $1,500,000
Mid-Cap App Development Companies: $40,000 to $300,000
Freelancers or Small Shop Companies: $2,000 to $25,000
2. Industry-Specific Costs
The industry to which your blockchain app belongs can also influence development costs. Factors like complexity, the number of stakeholders, and industry compliance requirements vary across sectors.
3. Complexity of the Blockchain App
The complexity of a blockchain app is determined by various factors:
Goal: Clearly define the purpose of your app, identify user problems, and understand how your solution can resolve them.
Consensus Mechanism: Choose the right consensus algorithm based on your needs, considering user permissions, reissuance mechanism, and more.
Platform: Select the appropriate blockchain platform (e.g., Ethereum, Hyperledger Fabric) that aligns with your app's goals.
Stack: Different platforms require different programming languages and tools, so choose the right stack.
APIs: Depending on your use case, you may need to build custom APIs for data authentication, auditing, and more.
UI/UX: Design a user-friendly interface and admin console.
Proof: Consider starting with a minimum viable product (MVP) before full-scale development to save on initial costs.
4. Blockchain App Category
Blockchain apps fall into two main categories:
Cryptocurrency-based solutions: These include DApps, wallets, crypto-exchange solutions, and ICOs with DApps.
Non-cryptocurrency based solutions: These are used in inventory management systems and rely on distributed ledger technology (DLT).
5. Blockchain App Services
The specific services your blockchain app offers also impact costs:
Crypto Wallet: Secure digital wallets for storing, sending, and receiving cryptocurrencies.
Crypto Exchange: Platforms for trading cryptocurrencies.
ICO (Initial Coin Offerings): Costs vary based on factors like whitepaper creation, MVP development, advisors, advertising, and PR.
dApps and Distributed Ledger Technology (DLT) based solutions: Costs depend on factors like blockchain network type, smart contract development, level of decentralization, and more.
NFT Marketplace: Development costs vary for non-fungible token marketplaces.
6. Legal and Compliance
Regulatory Requirements:
Compliance with anti-money laundering (AML) and know-your-customer (KYC) regulations is crucial for blockchain app developers.
Ensuring compliance with data protection and privacy laws such as the General Data Protection Regulation (GDPR).
Adhering to specific sector regulations, like financial or healthcare regulations, depending on the industry the blockchain app is being developed for.
Staying up-to-date with local, national, and international regulatory developments.
Licensing and Patents:
Investigating and obtaining the necessary licenses and permits required to operate within the legal framework.
Conducting a thorough patent search to ensure the blockchain app doesn't infringe on existing patents.
Filing patents for any innovative features or technologies used in the blockchain app to protect intellectual property.
Data Privacy and Security:
Implementing robust security measures to protect sensitive user data stored on the blockchain.
Complying with data privacy laws and obtaining appropriate user consent for data collection and processing.
Ensuring data encryption and secure storage to prevent unauthorized access.
Regularly conducting security audits and vulnerability assessments to identify and mitigate potential risks.
Industries Benefiting from Blockchain App Development
Blockchain technology offers solutions across various industries, including:
Real Estate – Enhancing sales and tokenization.
Energy Sector – Reducing operational costs and promoting sustainability.
Finance Sector – Providing digital security, flexibility, and error-free transactions.
Logistics Sector – Enabling efficient communication and tracking.
Healthcare Sector – Streamlining clinical trials and ensuring data privacy.
Other sectors like Agriculture, media and entertainment, insurance, travel, education, and IoT can also benefit from blockchain apps.
So overall, the rapid growth of blockchain technology presents unprecedented opportunities for businesses. By understanding the factors influencing blockchain app development costs and identifying industries that can benefit from these solutions, you can leverage blockchain to drive cost-effectiveness, security, and ROI for your business.
As a dedicated blockchain app development company, MXI Coders Pvt. Ltd. India can provide tailored solutions to meet your business needs, integrating cutting-edge technologies for success in this evolving landscape. If you're considering blockchain integration, reach out to our team to explore the possibilities.