Crypto Payment Gateway Solutions: Detailed Analysis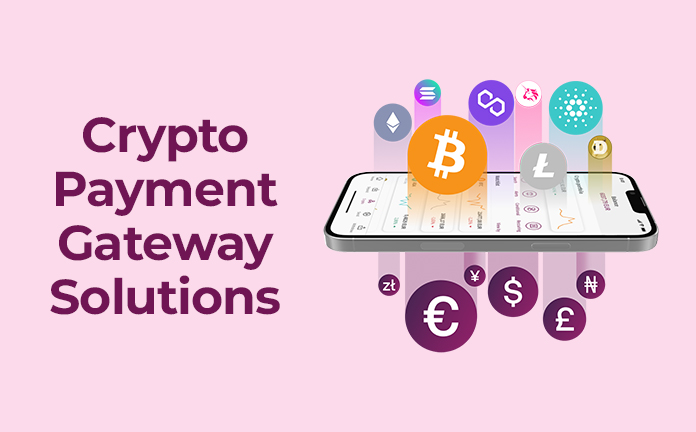 Crypto Payment Gateway is a service that enables merchants to accept cryptocurrency as a form of payment for their goods and services. It can be integrated with an e-commerce platform or a mobile app, and can also be used for an offline business that accepts cryptocurrency payments.
Since the inception of Cryptocurrency business, more and more people are finding it useful in many ways. Now business has been simplified in terms of receiving and sending payments. Those who are dealing in cryptos are making most out of this Cryptocurrency payment gateway solutions.
Now, before we dig deep let's check what cryptocurrency is all about.
A Brief Introduction about Cryptocurrency
A cryptocurrency which is popularly termed as crypto is a digitalized form of currency (digital asset) that truly acts as an exchange medium for users providing a secure means of financial transactions.
A distributed ledger technology popularly known as a blockchain keeps the control of this distribution serving as a database to all the transactions taking place. This is basically a growing list of records of blocks that are linked to each other by cryptography. Each one of them consists of a hash known as cryptography hash. All of these contain important transaction data which can be modified.
What is Crypto Payment Gateway?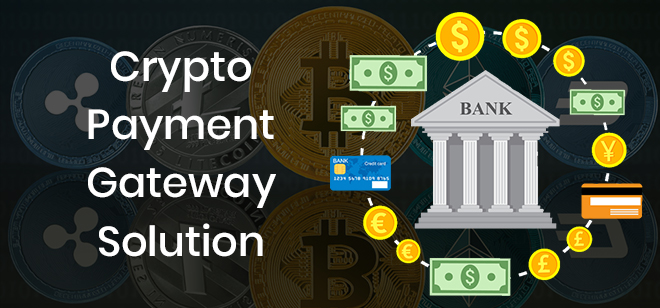 A cryptocurrency payment gateway is a payment platform that is decentralized in nature. It is a platform by which users can pay as well as receiving money from another user using multiple variants of crypto coins.
Basically, this payment gateway is made in order to smoothen and quicken the payment process. This, in turn, will subsequently reduce the intermediaries involved in the process. The transparency of this platform is what it is well known for.
Crypto Payment gateway accepts bank transfer and payment via debit card and credit cards as well. Some of the cryptocurrency payment gateways also accept mobile balance use also.
One thing must be kept in mind always that cryptocurrency is basically very volatile in nature and must be converted into fiat currency immediately. This will ensure that there is no potential loss associated with the transaction on both the giver and the receiver's part.
Payment via cryptocurrency payment gateway is easy, offers privacy and security to transactions. The payment via this mode involves fast turnaround, cheaper than the rest of the methods and offers no chargeback.
The Way Crypto Payment Gateway Works
In order for the crypto payment gateway to work, it needs to have a backend system which will process the transaction and convert it into fiat currency. The conversion rate is determined by the cryptocurrency exchange rate on that day.
The process of executing a payment through a cryptocurrency gateway looks like this:
When a customer chooses a product or service from the website, app, or online store and uses cryptocurrency to pay for it, they choose to use cryptocurrency payment gateway.
The customer will land on a transaction window to make a purchase where the market conversation rate between the desired cryptocurrency and chosen fiat currency will be shown and frozen.
The payment will be converted into the chosen fiat currency by the cryptocurrency payment gateway.
Now funds will deposit and available for withdrawal in merchant's account.
Cryptocurrency Payment Gateway Vs Fiat Payment Gateway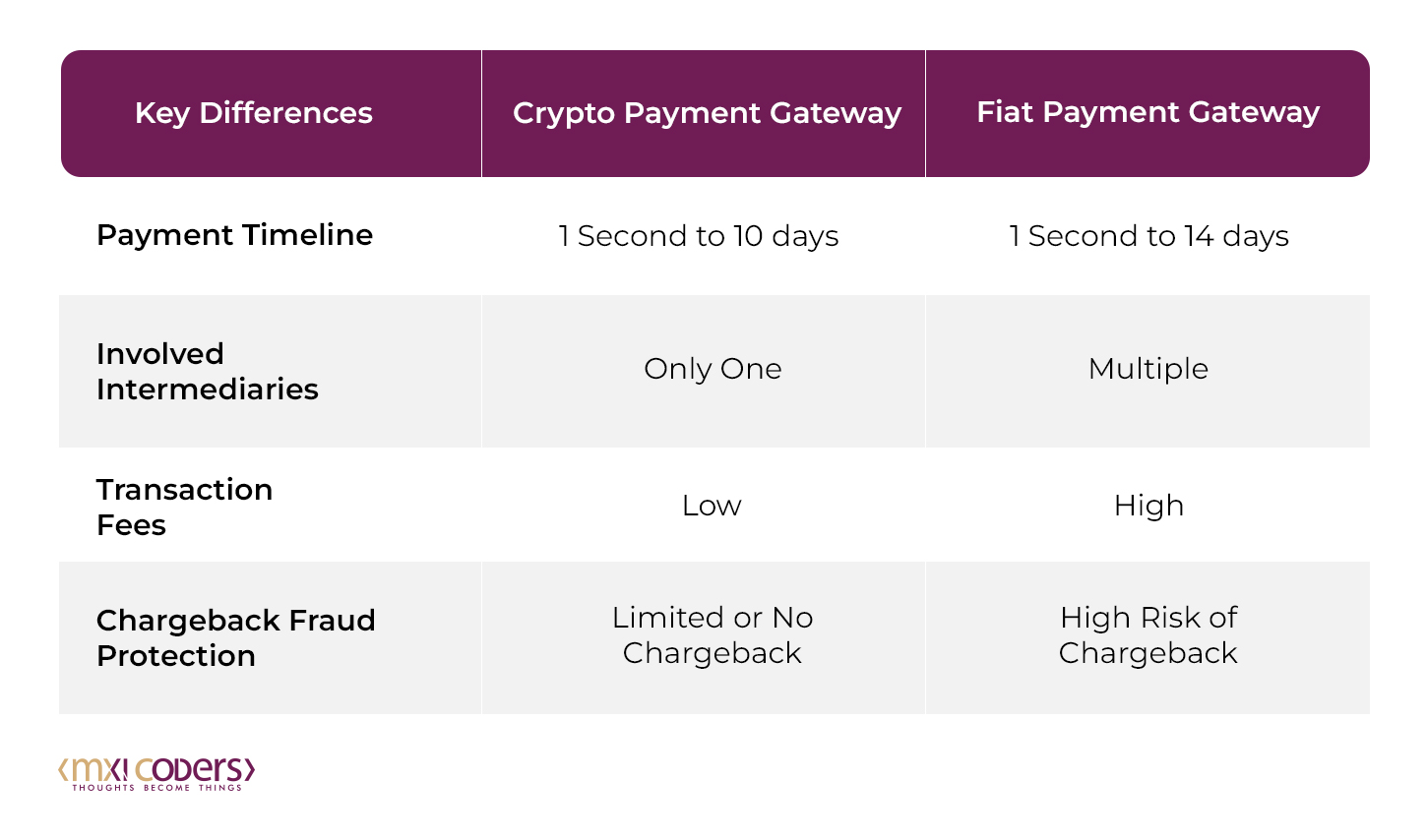 Crypto payment gateway is a new type of payment gateway that allows customers to pay in cryptocurrency. The advantages of crypto payment gateways are that they are faster, cheaper, more transparent and more secure than traditional fiat payment gateways.
Cryptocurrency payment gateways like BitPay, Uphold and ItBit allow the customer to pay with cryptocurrency; most of these services are offered by exchanges that already connect the customer's bank account to a cryptocurrency. The Customer deposits fiat into their account, which is then converted into their desired currency and sent to the merchant's account.
One of the most significant differences is the fact that crypto payments can be anonymous and have no or less transaction fee, while fiat payments are not anonymous and have high transaction fees.
Types of Crypto Payment Gateways
There are two types of crypto payment gateways – custodial and non-custodial.
Custodial wallets are where the private key is stored on a centralized server, which means it's vulnerable to hacking. Non-custodial wallets don't store any private keys, and instead rely on a decentralized network to verify transactions.
It's important to choose a wallet provider that has strong security measures and is constantly innovating new features. A popular example of a secure crypto payment gateway is Bitpay. Crypto payment gateways typically charge a 3-10% fee, which is good for smaller payments. For larger payments, being a leading Crypto Payment Gateway Solutions provider, we recommend using an external crypto payment processor like Coinify or Coinbase.
Features
Two-factor authentications are one of the most primary requirements that are needed in order to get you signed up to receive or make payments via the payment gateway. The Google Authenticator is one of the most efficient yet the fastest way of getting yourself secured via verification of a few of your personal details. This application can be easily downloaded from Google Play Store. By providing email ID, password of your choice you can log in and create your account. Just follow the steps and you can easily create your account.
Once you have an account, you can easily send and receive Bitcoins via internal transfer that only requires the address of the receiver and the payer.
You can easily access your account via mobile application as per your convenience and use the application for sending and receiving Bitcoins (cryptocurrency) from different parts of the globe.
This payment gateway has much more to offer to the merchants as well. For their benefit, merchants having a crypto account can instantly cover their received Bitcoin to their local currencies (fiat currency) at the point of sale. This gives them the extra benefit of using the Bitcoins instantly.
Features like participating in ICO, ad-hoc payment requests, transaction notifications, hardware wallet support and many more offerings are few of the reasons why more and more individuals are getting associated with Bitcoin transactions highlighting the acceptance of Crypto payment gateway on a whole.
List of Benefits
Crypto Payment gateways offer instant transaction settlements in exchange for a small network fee and service charge.
Only one crypto payment processor involved enhancing overall user experience.
Transparent blockchain networks protect customers against risk of chargeback fraud.
It helps reduce the volatility risk for merchants by supporting multiple cryptocurrencies.
Payment in a new way without any issues or concerns.
Involves discreet payment method.
Security is one of the most important factors involved and remains on the blockchain ledger easily.
Payment method like credit cards and other charges extra for the single transaction which the crypto payment gateway does not.
Each and every Bitcoin transaction involves transparency.
Best Crypto Payment Gateways for eCommerce Stores and Small Businesses
Cryptocurrencies are changing the way we think about money. They are paving the way for a new era of payments. That's why it is important to know what is the best crypto payment gateway for your business needs.
There are many cryptocurrency payment gateways out there, but not all of them are created equal. Some crypto payment gateways might be better than others depending on your business needs and how much you want to spend on transaction fees.
Here is a list of some of the best crypto payment gateways:
1. Coinbase Commerce
Coinbase Commerce is a crypto payment gateway that is perfect for small businesses that don't need an expensive plan. It is one of the most cost-effective and easy to use crypto payment gateways available.
The Coinbase Commerce API provides a way to integrate with any ecommerce platform, so it can be used by all sorts of small businesses. The Coinbase Commerce API is simple to use and doesn't require any programming skills. All you have to do is enter your email address and create a password. The API will generate a token for you which you can use to start accepting cryptocurrency payments on your website or in your mobile app.
The company also offers an open source software developer kit (SDK) for developers who want to build custom integrations with their own e-commerce platforms.
It is a cheaper alternative to other crypto payment gateways, which charge 2% per transaction. The cost of using Coinbase Commerce is 0.5% to 1% per transaction.
2. BitPay
BitPay provides a way for merchants to accept Bitcoin payments from customers without the risk of price volatility. The company offers a wide range of services to help merchants get started with accepting cryptocurrencies, such as an online checkout page, integration with shopping cart plugins like WooCommerce, Magento, PrestaShop and OpenCart, in-person sales support and more.
BitPay also offers a free service called Copay that allows users to store their Bitcoins in one or more shared wallets. Businesses can use this service to allow their employees to make purchases using Bitcoin or any other cryptocurrency that they support.
BitPay may charge 1% transaction fee on eligible payments.
3. Shopify
Shopify is a leading eCommerce platform that makes it easy for you to sell online. The company is best known for its ability to provide a secure and reliable platform for online stores. Shopify has been around since 2004 and has managed to grow over the years by consistently providing users with a user-friendly interface that allows them to develop their own customized store without any coding knowledge.
Shopify is one of the most popular crypto payment gateways in the world. A recent survey found that more than 2 million merchants are selling goods on Shopify's platform, and over 1 million of these merchants have integrated cryptocurrency payments into their stores.
The company is best known for being an absolute pioneer in the field of crypto payments, which gives it an edge over its competitors who are still struggling with this new technology. In addition, Shopify offers competitive rates, which makes it one of the most popular crypto payment gateways out there today.
4. CoinGate
CoinGate is a crypto payment gateway system that enables merchants to accept payments in Bitcoin, Litecoin, Ethereum, and 50+ other digital currencies. It is one of the best crypto payment gateway systems available today.
CoinGate has a number of advantages over other crypto payment gateways. Firstly, it has low fees for transactions – if you use CoinGate for your business transactions you will pay only 1% per transaction. Secondly, it is easy to set up and use and does not require any technical skills or knowledge from the merchant side. Thirdly, it has a simple interface that makes it easy to track transactions and manage the account. Finally, CoinGate offers an API which can be used by developers to integrate this solution into their own applications.
5. CoinsBank
CoinsBank is one of the best crypto payment processors. They provide a wide range of services to their customers like cryptobanking, cryptocurrency exchange, and a crypto payment gateway.
CoinsBank is a company that provides an all-in-one solution for cryptocurrency trading and payments. It can be used as a bank, exchange or an alternative payment processor for merchants around the world. CoinsBank has over 100,000 registered users so far and is growing at an exponential rate.
Conclusion
It is just now a matter of time that more and more people make use of cryptocurrency seriously and use cryptocurrency payment gateway solutions on a regular basis like that of PayPal, debit and credit card. Only time has the answer to all the questions.
Wishing you happy trading.