E-rupee (Digital Rupee) – Everything you should know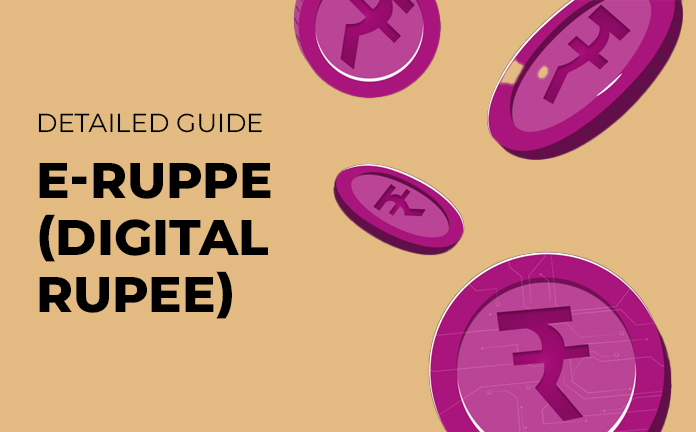 The roll out of digital rupee or E-rupee by RBI is one of the big steps in the process of digital transformation in India. It's a brilliant chance for India as it will enhance the ease of making business and increase the flexibility and safety of the whole payment set-up.
On December 1, 2022, the Reserve Bank of India launched India's digital rupee, or E-rupee, as a pilot project covering four cities in the first phase. Those four cities are New Delhi, Bengaluru, Bhubaneswar, and Mumbai. Later on, phase 2 will include nine more cities: Ahmedabad, Indore, Shimla, Hyderabad, Gangtok, Patna, Guwahati, Kochi, and Lucknow.
Similarly, four banks, namely State Bank of India, IDFC first bank, Yes Bank, and ICICI bank, are involved in the first phase. Then four other banks- HDFC bank, Kotak Mahindra Bank, Union Bank of India, and Bank of Baroda will get involved in the pilot project.
What is an e-Rupee?
The e-rupee or Central Bank Digital Currency (CBDC) is a digital token and a legal tender. It will be available in a similar denomination as the paper currency, as well as coins that are available now. E-rupees will be circulated through intermediaries or participating banks.
Using e-rupee will help decrease the operation cost while managing the physical cash, increasing the effectiveness of payment systems. It will also boost improvement in cross-border payment and limit concerns on legalizing or tax evasion of private cryptocurrencies like ether etc.
As per RBI, users can access and do the transaction with E-rupee using a digital wallet provided by the participating banks. Moreover, these transactions will be done using QR codes. Transactions can be made both people to person and person to merchant.
How to Buy e-Rupee or Digital Rupee?
If you are thinking about how to buy an e-rupee in India, things are more complex at present, but very soon, it will have much clarity. The four banks collaborating with RBI will launch their CBDC digital currency apps. Through this app, you will get access to e-rupee.
Among all banks, SBI, India's largest bank, will launch its SBI CBDC app first, and thus SBI customers will experience the glory of digital currency. All you have to do is link the digital wallet with the bank account. The other bank that has rolled out its mobile app for the digital rupee is YES, but only for closed groups. It is in the same phase as beta testing, where only a chosen group of users will use the app and give their feedback, and then after that, it will be open to others.
Benefits of e-Rupee
Low Settlement Risk
As per RBI, payments made through CBDC will remain final, reducing the settlement risk in the financial system. There will be no need for interbank settlement, and it is like the UPI system where the e-rupee is transferred like cash instead of bank balances.
Low Cost of Transaction
Settlement in digital currency will decrease the cost of the transaction by preventing the need for settlement assurance infrastructure or any collaterals for reducing the risk of settlement.
Enhanced Liquidity
When compared with existing payment techniques, CBDC might benefit the customer in relation to liquidity, adoption, and transaction convenience, along with quick settlement and concealment.
Boosts our Digital Economy
E-rupee will strengthen the digital economy, making online transactions safe and free from risk.
Linking Gaps
CBDC will decrease the need for various payment gateways and other card networks. India currently has about 1.2 billion mobile connections but 582 million bank accounts. CBDC can help in bridging this gap.
Low Operational Cost
One of the significant benefits of using the E-rupee over other currencies is that making payments through it will decrease the cost of operation. It is so because it lessens the cost associated with the management of physical cash, promotes financial inclusion, and brings suppleness and effectiveness.
Safe
Users will not have to worry about the rightfulness of the digital rupee or compare it with currencies like Cryptocurrency. It will have similar confidence as the actual cash because the central bank will issue it.
How is the e-Rupee Different from Cryptocurrency and UPI?
With Cryptocurrency, RBI has a problem because of negligible regulations in our country. This is why the government imposed a 30% tax on crypto profits in the 2022 budget. In addition, a TDS of 1% was also imposed. So, Cryptocurrency started to become obsolete in India. But in contrast, for e-rupee, things are entirely different. At first, it is completely safe as it is a legal tender issued by RBI. It is effortless to use as it will work like a digital wallet, unlike Cryptocurrency.
When compared with UPI, CBDC is a little different. Unlike UPI, you can use the CBDC of a particular bank even without having a bank account in that bank. Even if it is digital, it also possesses the characteristics of physical cash. This makes it significantly less complicated.
Thus, the digital rupee or e-rupee is one of the significant steps for the Government's effort to make India digital. Once it befits to be a part of our leading society, it is most likely that the current new-age digital banks will get more benefits as they have the required digital frame. Yes, there will be some difficulties while using those digital currencies initially. But RBI has stated that it will use the pilot to learn all difficulties and, depending on that, will offer consumers various services and applications in the coming days.
Frequently Asked Questions (FAQs)
How Secure is e-Rupee?
The newly launched e-rupee is safe as it is a legal tender issued by RBI. In addition, it is the same as physical cash, whose value will remain the same, making it a reliable digital currency.
Is it Possible to Transfer e-Rupee?
It is possible to transfer digital rupees to your family members and friends. It will function just like your Paytm wallet or amazon pay. You can store and transfer money.
How will the e-Rupee Boost India's Digital Economy?
It is one of the successful mediums for boosting the Indian Economy, increasing financial inclusion, and will make the whole payment system effective. RBI has clearly stated that the newly launched digital currency will complement, not replace, the existing form of money and is envisioned to offer an additional payment avenue to users and not change the current payment system.
Conclusion
In brief, being a professional blockchain development company, we must say that India has taken one step ahead to keep pace with the rapid transformation in the payment systems worldwide. Digital Rupee will completely change the way we used to deal with physical money and will make it even more safer and secure.