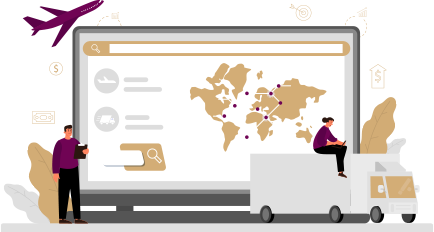 Fleet Management Software
MXICoders is an expert software development company that provides cutting-edge fleet management solutions, such as real-time tracking, routing display, panic button integration, temperature monitoring and fuel management. With these sophisticated tools at your disposal you can guarantee the safety of your vehicles and drivers alike.
About Fleet Management Software
If you're in the transportation industry, it's essential to have an effective method of tracking and managing your vehicles. The errands involved such as speed management, vehicle system diagnostics, driver management, or fuel maintenance can be a tedious undertaking – especially if your company is large with many cars. Fortunately MXICoders can create custom Fleet Management Software; a comprehensive solution that will make the fleet organization more efficient than ever before!
Why you Need Vehicle Management Solutions
With years of unparalleled expertise, MXICoders is a front-runner in delivering software solutions to enhance the lives and efficiency of our clients. Our professionals specialize in creating GPS-enabled fleet management systems that can be tailored precisely to a broad range of industries.
Our team stands out for its ability to provide dynamic, reliable products with superior quality assurance. By allowing us to utilize our skills and experience, we guarantee your satisfaction from start to finish!
Engaging with our clients to get a deep understanding of their needs, we build products that can effectively manage and arrange all the vehicles in an organization. Our solutions are intuitively designed for optimal supervision and scheduling.
By utilizing our advanced fleet management solutions, you can dispatch a product with the utmost confidence. We utilize cutting-edge technology to maximize efficiency for clients and guarantee that their business yields optimum results. Our certified developers ensure quality control at every stage of the process so your satisfaction is guaranteed!
Fleet Management Software Features
Real Time Tracking
Through the use of sensors and GPS, this technology allows users to stay informed about the exact position and condition of their vehicles no matter where they may be.
Job Schedule Board
The platform enables users to easily assign and plan various duties for drivers operating different types of vehicles.
Safety Driving
The system keeps a close eye on the driver's behavior, sending out an immediate notification to the office should they attempt to drive outside of their predetermined boundaries or violate any traffic laws.
Route History
By logging the route taken, time spent on each road, fuel consumed, and sharing this data with a system for future reference, it can efficiently generate improved routes in the days to come.
Driver Route
Assigns the most efficient route for your driver to safely and quickly reach their destination with no hassle.
Offline Tracking
Accurately track vehicles operating in remote areas that lack reliable network coverage and effectively send the collected data back to your system.
Check Out Related Web
Services
Check Out Frequently Asked
Questions
Fleet Management Software Page FAQs
Fleet management software is a comprehensive solution designed to help businesses better manage and organize their fleet of vehicles. It typically includes features such as real-time tracking, route display, driver management, temperature monitoring and fuel management. The goal of the software is to make the fleet organization more efficient while ensuring vehicle and driver safety at all times. Fleet management solutions are typically tailored to specific industries in order to best meet their needs.
The main benefits of using Fleet Management Software are increased efficiency, improved safety for drivers and vehicles, real-time tracking capabilities, route optimization, driver routes optimization, offline tracking capabilities and temperature monitoring. Fleet Management Software can help businesses manage their fleet more effectively by providing comprehensive data at all times to better plan routes and schedules. Additionally, with Fleet Management Software companies have the ability to quickly identify problems or violations within the system and take corrective action right away. This allows them to increase safety while reducing costs associated with operating a fleet of vehicles.
Fleet management software provides a comprehensive solution for managing a company's vehicles and drivers more efficiently while reducing costs and improving safety.
Ready To Start a Project?
Fill the Form Below