Money Transfer or Money Exchange Solutions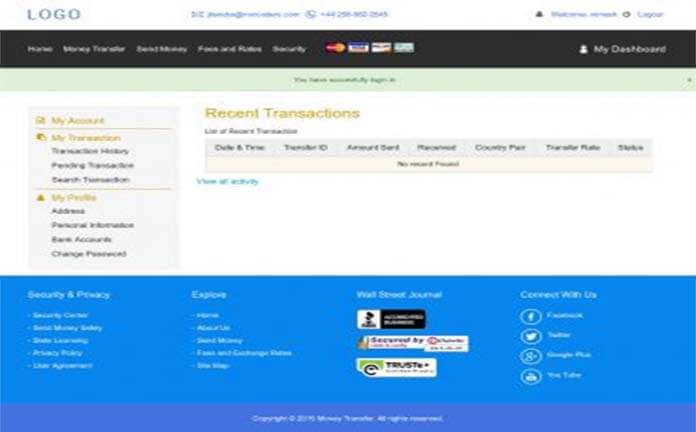 Introduction :
Advancement of technologies and urbanization make people to go beyond boundaries. For such modern civilization money transfer and exchange solutions have become more popular way for safe payments globally. However, needs for money exchange would be varied from business to business and person to person. Thus, people are looking for something which can meet and greet all types of money transfer requirements.
General Features of Money Transfer and Exchange :
Bug Free
Fast Loading
Extensive Admin Panel
Role Base Authentication
Transaction history
Money Exchange Transaction
Agent-User base user personal Dashboards
Site Design with Logo
Admin Panel Design
Role Based Admin Support Dashboard
E-wallet
Currency Exchange Converter
Fees calculation and admin support
Safety and Security at Top
Features for Money Transfer and Exchange
Admin
Ease of use
Dashboard show all informations regarding transactions and agents also about total earning and today's earnings
Easy to manage CMS
Easy to manage SEO
Easy to Manage Google Analytic
Easy to add new questions and View questions
Easy to add new users and agents also view users & agents list
Manage transaction fees by enable/disable function
Manage country list by enable/ disable function
Manage email format by editing existing message.
User
Support Multiple Currency facility
Security functions provided for customer convince
Money transfer immediately between two users easily
Easy money transfer to user account from admin panel
Easy to see sent and received money either in progress or completed.
By one click user can see transaction details easily
Able to see recipients details in depth.
Easy to add new recipients during transfer money
Local and International money transfer
Foreign currency exchange system
By uploading ID proof for send money providing security to the other users.
Easy to get money from nearest agent and collect money by giving transaction pin and ID.
Mail for confirmation of money received from agent.
Agent
Easy to see available transactions history
Easy to see pending transaction
Easy search for transaction by just adding transaction id
Easy to add bank details
View document and verify it
After verifying document agent can make pending transactions to active transactions and send mail for confirmation to the 2nd user who will receive money.
Generate transaction pin to receive money to whom money transfer
Why choosing us?
Immediate Transactions
Safe & Secure
Low fees and Competitive rates
Browser Compatible
Responsive Design
How to send Money
Register Yourself
Select Recipient or Create new Recipient
Select Currency you want to convert & write amount
Select Payment Method
Upload Image Proof for agent verification
After final submission, it'll show that your transaction is completed.
To whom money transfered, get mail notification that user have selected you for payment.
Demo
Admin Dashboard:
http://mbdbtechnology.com/projects/moneytransfer/admincp/
Username: jitendra@mxicoders.com
Password: mxi123
User Dashboard:
http://mbdbtechnology.com/projects/moneytransfer/login/index/customer
Username: rushit@mxicoders.com
Password – mxi123
Agent Dashboard:
http://mbdbtechnology.com/projects/moneytransfer/login/index/agent
Username – nimesh@mxicoders.com
password – mxi123
For more details kindly go through www.mxicoders.com.
If you are looking for solution , please contact to info@mxicoders.com , or Call +91-8460337987