12 Technologies IT Companies should Focus on in 2023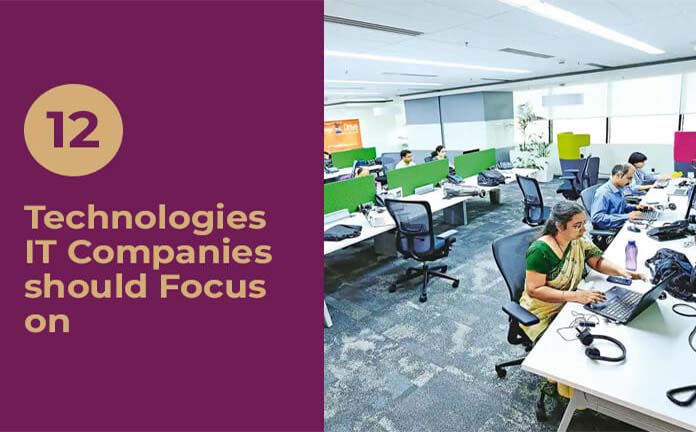 We are living in a world where new technologies are attaining the maximum traction. So, what are the most vital trends that should not be ignored? Which technologies, IT companies should embrace for continuing digital acceleration? Here in this article, you will know about 12 technologies IT companies must focus on in 2023 for competitive advantage.
Retailers worldwide are using technology to conceptualize business, enhance consumers' lives and assist in making the world a good place to survive.
Technological recreation has never stopped, and you must always be ready for the upcoming innovative phenomenon. What is prevailing now might become primitive very soon. To become the industry leader, all companies must invest in essential changes on the horizon. Procrastinating can harm your business.
The whole process of accepting and implementing new technology with an existing system is not an easy task. Other than a financial investment, you require a strong business case, a gritty roadmap, altering management strategy, and various measures. It is all about utilizing technology to its full potential in the course of familiarizing to altering the requirements of customers.
No matter how difficult it is, embracing new technology is essential for all companies, especially IT companies focusing on fast deliveries, decreased spending, and increased user experience.
Why IT Companies should Invest in New Technologies
Communication with Consumers
Technology has an impact on the ability of a firm in doing communicate with its consumers. All businesses need to interact with their clients rapidly and with complete clarity. When consumers use technology to interact with businesses, it benefits businesses by creating a strong public image.
Operational Efficiency
Technology supports a business in understanding its cash flow requirements and reserving valuable resources like physical space and time. For example, with the right technology, employees can save time by conducting meetings over the internet rather than at corporate headquarters.
Streamlining Workflow
Nowadays, all things in businesses are fast-paced. A business that does not employ the required technologies will fail to keep up with the speed of others who use various technologies to streamline their process. Not only that but also technology helps break the barrier between workers.
Safe
IT companies today are on the verge of security threats. Adapting modern technology can help protect financial data, proprietary information, and other secret decisions. In simple words, technology assist every company in keeping their innovative ideas away from their competitors.
So, remaining updated on technological innovation allows IT companies to enhance their products, bring business transformation, and provide reasonable consumer satisfaction. It allows them to stay on top, develop and deliver an increased user experience.
List of 12 Technologies that IT Companies Must Focus on in 2023
1. Digital Immune System: Make Applications Resistant to Bugs
IT companies, to decrease downtimes, must invest in a digital immune system that includes varied practices to make applications resistant to bugs. With this, it becomes easy for companies to put up with their services, control risks, and maintain proper business continuity.
Some fundamental conceptions of a digital immunity system involve good observability, automated remediation, AI-based testing, and Site reliability engineering. All these, in combination, make sure that systems do not crash, offers continuous service, and all issues are rectified fast.
2. Applied Observability: Better Screening and Troubleshooting Applications
Applied observability allows deep penetrating of the latest distributed system for fast and automatic issues recognition and resolution. With applied observability, IT companies can monitor the internal state of a complicated system by collecting, comparing, and investigating a consistent stream of data and finding problems to solve them quickly.
Observability collects telemetry information like traces, dependencies, logs, and metrics. Then it relates them to offering resources with complete and appropriate data about all events that should be addressed.
3. AI TriSM: Protects Essential Functions of your Company
AI TriSM, or AI Trust Risk and Security Management, ensures that AI technology effectively does what it is expected to do.
In addition, it assists in protecting the exchanged data, coping with governance, protecting privacy, and finds out anomalies to protect the important functions of your company. AI TriSM includes solutions and methods for managing risks, sending alerts, and then acting.
4. Cloud Computing: Processes Vast Amounts of Data in Less Time
In 2023 and upcoming years, cloud computing will increase as more companies put their data in the cloud and not depending on local servers. In the coming years, we will see a big move to cloud computing among IT companies.
In addition, there will be more developments of alternatives to cloud computing, such as edge computing and also fog computing.
5. Wireless Value Realization: Will Optimize Business Processes
The next-generation wireless will not only improve connectivity but also helps in the optimization of processes for high reliability, decrease costs, and enhance productivity.
Various wireless technologies will function in one infrastructure and use capabilities to facilitate the change toward digital transformation flawlessly. A more effective, combined, safe, dependable, and measurable technical core of upcoming wireless will assist in decreasing the capital investment. IT companies should focus on this trend to enhance user experience.
6. Robotic Process Automation: Automating Jobs
Like machine learning and AI, it is an emerging technology that will assist in automating several jobs. It mainly includes using software to automate the daily business process, including processing technologies, interpretation of applications, manipulation of data, and answering emails and texts.
7. Metaverse and Web 3: Make a Well-Connected and Safe Virtual World
IT companies must focus on these two techniques as they offer a different dimension to daily experiences and interactions.
Metaverse facilitates a second world and will offer business opportunities to connect with customers. Metaverse will pair up with our offline behavior and transfer information to make digital environments more customized and impactful.
IT companies can use metaverse for nurturing relationships, increasing brand identity, increase marketing and sales.
8. Quantum Computing: Take Business Operations to another Level
Quantum computing is another developing technology that will take industrial value chains and business operations to another elevated level. It will speed up technologies and identify encryption with fewer efforts. It can keep hold of various values instantaneously. It is faster than classical computation and requires a fraction of memory for various tasks.
9. Blockchain: Generates a Safe, Unified Path toward your Goal
Blockchain is a technology that will power up in the year 2023. Some trustworthy pillars of Blockchain are encryption, community, traceability, privacy, and decentralization. Its capability to validate, enhance security, decrease costs, increase speed and develop confidence will make it an on-demand technology in the coming years.
It allows clear access and creates relationships between data, making tamper difficult.
10. Scrumban Technology: Project Management Technology
A technology that combines Scrum and Kanban. It is a framework that associates expected routines, scrum structure, and agility with the reliability and conception of Kanban. With this technology, the workflow will become more agile, effective, productive, and versatile and assist the team in making their planned tasks suitable and enhancing their process.
Scrumban will be one of the best technology that IT companies can rely on while migrating from Scrum or looking for more suppleness.
11. Platform Engineering: Enhances Developer Experience
It is an emerging technology that will enhance developer experience and productivity through self-servicing abilities and automation to speed up app delivery and allow good collaboration between software developers and operators. It will update enterprise software delivery through various recyclable tools and abilities.
12. Full-Stack Development: Development of both Client-Side and Server-Side
It is one of the trending technologies of 2023 that IT companies must focus on. Web development these days includes both the back end and front end.
Specifically for sectors about services like e-commerce, retails involves both the client side and server side. In general, web developers are tasked with managing either the server or client-side or the website's server-side. But with full stack development, an IT company will get the flexibility of functioning on both sides. So, focusing on this technology is essential for IT companies.
Conclusion
Both technology and communication are consistently evolving and suitably enhancing for the betterment of all. Therefore, businesses that do not stay up-to-date with ongoing business technologies can face extinction.
Developers should master those emerging technologies in 2023 to offer their clients a strong understanding of solutions required for companies for a competitive edge.