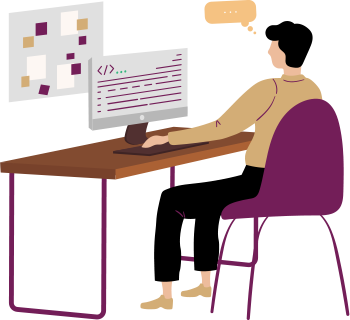 Testimonials
At the present time, so many companies in the worldwide market are offering similar services and products with small kind of segregation, in features, in design and in the models of pricing. In this situation, making customer reliability by fast problem resolution and troubleshooting throughout effective technical support services is very much important.
Client Reviews Always Boost
Confidence & Build Trust

You want your work done on time and done right? Then hire this user and you wont be sorry. Wow awesome work!!

Great php coder. Given enough time, they can get the job done for you.

Very easy to work with, quick apprehension of details, and a very easy going way. Took critic easy, and corrected the code accordingly. I would recommend this coder to all buyers.

Fantastic coders who are willing to learn new skills and knowledge to fulfill project requirements. Very friendly coders with daily feedback relating to project feedback. Project requirements are completed with high standard and quality, on time and within project budget. Thank you Andy and Savan - not only good programmers and web developers, but friends for life!! 100% honest and reliable, highly recommend to all.

He is an excellent programmer, very professional and key to details. I will always recommend him.

Delivered on time, 100% perfect job. Superb programmer!

Software aka mxicoders are an excellent team of professionals. Their focus on customer services is commendable. They ask questions when they don't understand the requirements. Most of the bids I received were ready to go or even quoted less than that software, but I chose software because they guaranteed results and satisfaction, but never undersold. Excellent work. Will definitely work with this group again.

Fantastic company to work with - this was a relatively low value project which they took seriously, and delivered a web site to my specification and in good time. They were responsive, and courteous and i have no hesitation recommending to others. thank you, "Software"

Very, very, Very good Programmer! Excellent time to deliver, very easy to speak with and explain the ideas. 100% recommended! Finally i found one excellent freelancer for my hard jobs!

Software' were on the ball. They submitted appropriate questions to determine my needs, even on this small project, and were always prepared to revisit any points I was unclear about. Throughout minor delays on our part they remained friendly and responsive. Technically, 100%. What more can I say?

Above and beyond what was expected. Ashok and his team are brilliant to work with. great communication and top work. very good english, very quick to respond on all topics. i would recommend this company very highly. it would be very unlikely i look beyond software for future or new work. i am very happy with the results of my project and still Ashok and his team continue to help me achieve my desired results.

Did a great and timely job.

These programmers were efficient, knowledgeable, and very professional. They understood our project requirements and came through with flying colors! Good communication and very flexible. No matter what your project requires, this company are the people to use.

The team at software is 100& reliable and delivering results as required. Not only do they meet requirements but also give hints on what could be done in a better way. Above this they show the flexibility to cover items that haven´t been in first requirements but come along the way. I'm looking forward to work together with them again as there is nothing to complain about from my side. Thumbs up! Thank you.

Great help and Great support. Managed to do the job in the very little time we had ! Will deal again with him for next upgrade.

Excellent feedback behavior for the customer. Every Question was answered as soon as possible, doesn't matter if we got other time zone. For my requirements they did a very well job.

Grate!

very good and very fast - will work together very soon

I will thank a lot to the team from software. It was a good choice again to work with them. Very fast and competent conversation and fast code delivery. best regards.

Perfect Coder! Does not stop to work until it´s exactly as you want it! Very good communication! Delivered in time! Highly recommended!

Keeps his word, professional communication, job is completed, no troubles. A+++++++++

excellent coder! Very flexible and does a great job! Fast!!! Highly recommended.

One of the best coders I've ever worked with! They are EXTREMELY professional and they constantly work 24/7 around the clock to get the site done! They were very creative and delivered the best site I've ever seen! Their work is nothing short of incredible! I will DEFINITELY be working with these guys in the near future! I HIGHLY Recommend them to anybody...you can't go wrong with these guys!

All work was provided as specified. Will use again. Communication excellent, and prompt!

This project went very smoothly. They helped to clarify a couple of issues that i hadn't thought through with my design and provided a great product exactly as they had promised. I will contact them again in the future as I continue working on my site.

Simply excellent. Great communication. Excellent skillset. Fast response to requests. Happy to work with my needs. Will be using again. Good Work!

Highly recommended!!! Very patient and attentive during the entire process. Was very pleased with the final result.

I am very happy for the work made by "software" coders. They have very strong developers who have good knowledge in AJAX, Jquery, PHP+mySQL, excellent design skills and cooperative providers , always happy to help me. This is a Team very professional and have understand soon what I need for my project. Thank you very much "software".

Ashok was indeed great in working with us & patient while we tested his work. Was quite accommodating THEREFORE we shall certainly work with him again. Thx SOFTWARE!

These guys are simply the best programmers on GET A CODER. Ashok is a great leader, he is hard working, honest, able to reach him at all times of the day and night. I simply gave them my design and they did everything else. I have honestly came back with changes over 20-30 times and they have had the pleasure to change it and provide me with honest feedback. The programmers are great i worked with Bhavin and Nirav but in particular Nirav - HE IS FANTASTIC, the most talented programmer/coder i have come across, he can simply do anything you require. I was hesitant picking a company from GET A CODER, but SOFTWARE has completely satisfied me with their service they honestly are simply the best in the business. If you are looking for a great programmers/coders, efficiency and quality then dont go past SOFTWARE - they are SIMPLY THE BEST

Great work. A pleasure to work with. Will definitely use again.

Work was very professional and the designer was very patient. Would recommend.

Software are great, you will always get what you want, they have regular communications and i would definitely use them again if i needed to do so!

Pretty darn good work on this small job! well done team.

Excellent work. I was happy to see that coder was even willing to grand me some "after service" , even after releasing the escrow. Good communication, and fast reaction.

Hi everyone, I have a year experience with project outsourcing , but believe me ,the service kindness & above all a very professional approach are uncompetitive, this project was just to finish a project that another coder left unable to complete, They (software) identified the problem ,put a plan & fixed it rapidly, with some extra work where needed, that's why you deserve a 10 star rating.

Fantastic Job. Very fast. Perfect communication. A+++ Rating. Thank you.

Ashok and his team did an excellent job. They worked quickly. Their communication was superb and their results were amazing.

Great job!

I am very satisfied with mxi coders work. They were quick in response every time we chatted online and developed my web page above my expectations. I even transferred a bonus payment in the end, because the job got so extended in time. These guys are defiantly on my list of recommendation!

Highly recommend, good end results, great communication via skype, always on hand to discuss project with good ideas and suggestions. Very satisfied.

Excellent work. Always ready to make changes to their work and ensure it meets all requirements. I had an issue where my client was very slow to respond to his needs for the website however mxicoders were very understanding and completed the project as I provided them when the required information. Will defiantly recommend for any web design work and will also be confident to try any of their other services.

I am very happy with the work received by "software". The entire project was done via email and updates and responses were always prompt and professional. They offered the best price for the project and continued to help for as long as it took to make revisions until the project was 100% complete. I will definitely use them again.

The project was implemented on time and professionally. Software are very capable team and very professional. I will probably work with them on a future project.

Very responsive. Due to a holiday in India, the project was delayed a few days, but all in all very good, competent work and I will consider them again for future needs!

Very good writer

I found software and his team Mxicoders friendly, very easy to communicate with, fast&efficient. Even if you don't ask for it, they give you progress reports very frequently, are easy and flexible with modifications requests and keep their promises regarding deadline+specs. I got 24 bids in my project but software was the only team that came up with a draft design for me even in bidding stage and this is why I chose them over other bidders and they didn't fail me. I like to work with them again.

Good work.

very good job

I highly recommend Software! They are extremely professional, quick to respond, and do an excellent job with projects. They take the time to truly understand business and technical requirements and needs, offering suggestions and details throughout the project. They work quickly and effectively, providing details and updates at every step. My experience working with them on a php/oscommerce web project was perfect. I have worked with many developers and companies in the past and can say without a doubt that software is the best! I plan to continue working with Software in the future and highly recommend them to anyone who is looking for quality, professional development work!

The user Software has been very helpful and very knowledgeable with website coding and designing. I am very satisfied with their work and ethics. Very friendly and always keeping in touch with their customers.

It took some time o get the communication right; emails and what not. What stated I want and what they thought was not quite on the same page for one of my task. However their actual work is vey good. Once they know what it is you need they they are very efficient and give you detailed analysis of what has been completed.

Tks for the excellent work. Highly skilled, great support, good communication and punctual completion. Looking forward to work with them in the future and can recommend them to anyone.

Excellent work they have done what we want.

I must say Ashok & his team Mxicoders are hard working, honest and extremely professional, they made a website which far exceeded my expectations. I did not realised how complicated it was, honestly I made over 28 changes but Ashok the true professional he is did not stop work until it exactly as I want it, and as well provide me with honest feedback. I plan to continue working with Ashok & his team Mxicoder in the future and highly recommend them to anyone who is looking for quality, professional development work! Thanks Ashok & Mxicoders

Page redesign was done!

I would like to work with them again.

Excellent work and design. Highly professional work. I will be delighted to use their services anytime, and would gladly recommend them to others.

Project was finished to a good standard. Very pleased

Excellent to work with. Software went above and beyond to work with us, multiple changes and re-writes, until we were satisfied with our new website. Good communication.

good job. See you

Our project was delivered on-time and within budget. All questions were answered in a timely basis. We are very pleased with their work and would definitely use them for future projects.

Excellent communication and willing to go the extra mile with you to get the job right. They appear to be able to handle any technical challenge I throw at them... I will use them again.

I was very pleased with there work and speed, contact was very good, ashok, and his team went out of there way to make me happy, deepu was wonderful, I have a few other sites to do, and want to start right away, I will not put it out for bid I will of course let them do it! if you have any questions please feel free to contact me at cash@usgoldworks Dean Dooley

Very good work! Everything as expected. I will hire them again for sure.

Software coder(s) provide a perfect architectural design to the website. Visual patterns and functionality was achieved as requested. Best of all, work in an accurate, fast pace with a high capacity of understand customer needs. Great performance and smooth communication that translates in awesome results in a blink of an eye. Thank You Software! Sincerely, web2009.

We highly recommend this team ! Our collaboration has been excellent. They fulfilled our requirements and completed our project very fast. Their code is highly efficient, sophisticated, robust and well documented. Communication has been a breeze. They understood our requirements in a snap and even suggested features we had not thought of. Class A solution providers in every aspect!

Very Patient, MXI went thru everything with me. Very detailed in their work. I will def use them on my next project.

Best provider ever. Fast, reliable, excellent communication. Were ahead of plan. Made additional comments that brought the project forward. I will hire them again and recommend them to anyone here. I would give them a rating of 1000 if possible. Excellent work, TOP

Finished work on-time, and with great results. Highly recommended.

Very good company to work with. Worked fast and very efficent! I am very pleased and will work with them again in the future.

They completed the job.

They really are professional , very good communication , very very recommended this group , really i am happy with this professional group , even they did some works for me free , at future i will work them again , THANKS SOFTWARE

Excellent delivery. Will use them again, highly recommended. Very good communication and fast delivery.

I am very please to recommend this group because for the following response. A) quick response time to emails, and live chat. B) the work is very professional, and quick. ( programming and design ) C) added some features to the site that was not in the project for free. All and all I am happy to work with this group, and I will forward more projects in the future.

I have worked with Mxicoders over an extended period of time and they have delivered an excellent product, both as regards design and functionality. Communication was frequent, timely and specific which means a lot when working with short deadlines and tough project requirements. I will definitely recommend choosing Mxicoders for your project.

Probably the best Getacoder user I have used, From Clip-share Customization, Wordpress theme Customization, and API Integrations. Still currently using Coder for future project's!! thanks again!

This is the third time I have used Mxicoders and they have not failed us. They have delivered what they promised. Professional and have an excellent knowledge of WordPress and opencart. Mxicoders will be our first choice when it comes to custom programming using php and mySQL.

Had some issue but resolved very quickly, they are very hard working coders, always use them. Will be using them again. My advice is make the thing clear first then will be not problem at all and they deliver work very fast.

This is one of the best providers I have ever worked with. their breath of services is astounding and their work effort and delivery times is on point. I would highly recommend MXI coders to anyone and I plan on awarding 2 more projects to them shortly.

VERY very fast work hard and honest working people. The team leader is great who is Mr ashok, He is always there for you through out the your project, and very help full, very reliable, i would say, if you see any bid from SOFTWARE accept it with out shadow of doubts, thank you for the project, hope to com back soon again.

" made really great Job ,able to understand complex thing that was not usual will rehire for my next project " " as usual fast and efficiency will re-hire for my next project "

From the initial response to my request through to delivery Ashok and his team at 'software' have been exemplary off-shore developers. They are highly responsive, high quality, flexible and professional in their dealings and I would happily recommend them to anyone on Getacoder. I enjoyed working with the team and look forward to more projects with them in the future.

The team of mxicoders did an excellent job and surpassed our expectations by far. The task was to build a complex responsive website with 3 user roles (user, client, admin). Mxicoders took care of HTML, CSS and PHP programming, API integration and database conception. Aside from the programming itself, they gave us very good design suggestions and created smart algorithms. Time was necessary to make everything perfect. We will continue working with mxicoders in the future!

The project was completed on time. Software produced high quality work. I will definitely recommend them to others Keep up the good work guys.

The team of MXICoders did an superb job with my projects. The task was to build 2 responsive website (webpararestaurantes.com and mapify.es). The first is a WordPress site with custom pages and features. The second one is a complex mapping ecommerce site with back admin. The team at MXICoders are always available and provide a very good customer service. We will continue working with MXICoders in the future!

Versha was great. I know I am picky but these guys are outstanding and addressed all the issue I could think about. I am very satisfied with them and would strongly recommend them to anyone who is looking for serious coders. Thank you Software team. Keep the good thing going.

Excellent company! They made my website look very professional with an amazing design. They are very fast too. They far exceeded my expectations. I worked with Rupal javiya and Ashok and their team. They responded quickly to my inquires and have very professional team. They are very knowledgeable and skilled and also very hard working. I would highly recommend them. Great job guys!

Perfect Coder! Does not stop to work until it´s exactly as you want it! Very good communication! Delivered in time! Highly recommended!

My project with Software is resolved much better than expected - Software has been incredibly helpful, also with tasks beyond the project itself - it is clear that staff are good, very professional and have a amazing talent in everything; designs, logo, programming - they were good at keeping me informed throughout the process. I have felt very comfortable and confident. I now know I had chosen the best company. I will certainly let the next project be done by Software - character 10 is not enough - they are better than 10.

MxiCoders team was exactly who I was looking for to re-develop and improve a very complex set of websites. After numerous trials with coders here in the U.S. and around the world, I almost though my project was impossible until I came across MxiCoders. Everyone from the project manager(s) to their entire developer team, I highly recommend MxiCoders Team.
Ready To Start a Project?
Fill the Form Below