Tips for Startups Launch Successful Minimum Viable Product (MVP)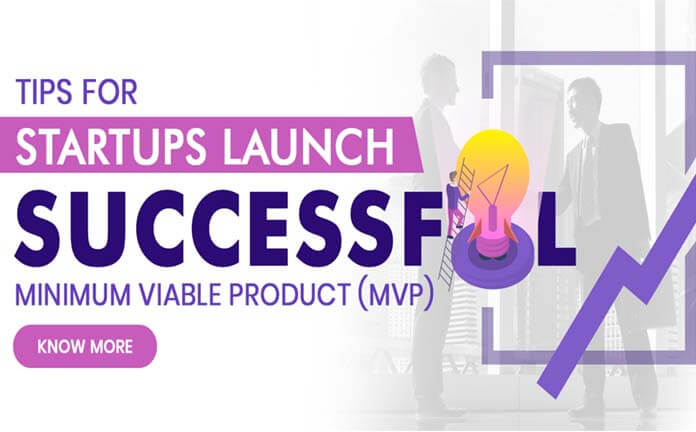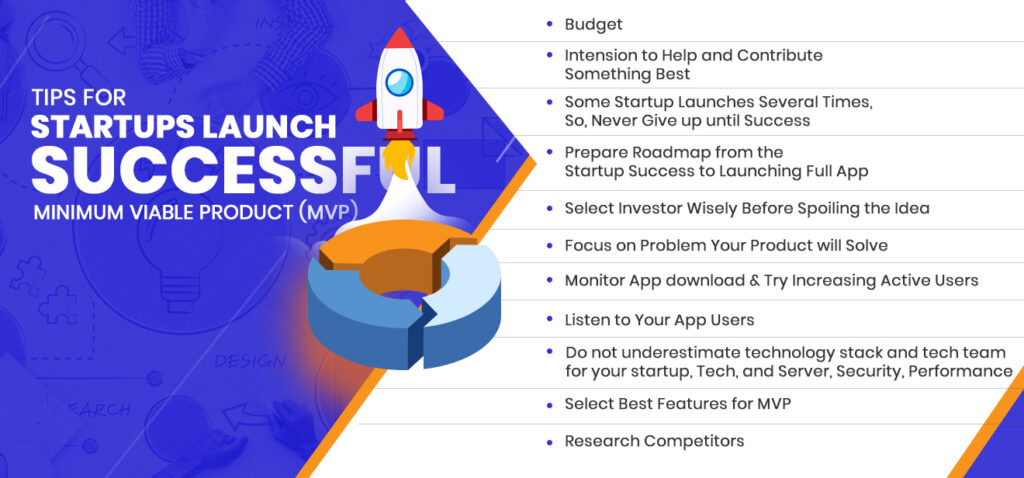 Startups are risky even when you have a first-class business idea. It is because people have no way to ensure whether the product will become a sought-after solution. But, you know what, you can reduce this risk with the help of MVP.
A minimum viable product (MVP) is a development technique in which a new product featuring a bare bone is tested on the market to determine the potential of the product. MVP is particularly common in today's IT industry for the development of websites and mobile apps and features only the essential functions sufficient to satisfy the early users. The final and complete set of features is designed and developed after considering feedback from the product's early users saving your money, time, and efforts.
So, here is a list of pro startup tips for successful MVP (minimum viable product Development).
Tip 1: Research Competitors: Market research is the core of MVP development. Most startups fail because they do not research their competitors. Analyzing your competitors will give you a chance to find the opportunities where you can provide a better service than them. For example, if you find their product to be better than your planned product, then you get the chance to improve your product.
You can try their products/ services yourself plus there are various tools that can help you to analyze your competitors' information like source of traffic, users' geographical location, monthly page visitors and website rank.
Tip 2 : Select Best Features for MVP: Yes, we know that MVP is all about just the necessary functions, but it does not mean to include junk of all software product features from all competitors. Prioritize the feature based on the market research and include the features that are needed and valued by the customers.
Tip 3: Do not underestimate technology stack and tech team for your startup, Tech, and Server, Security, Performance: The set of technologies, software, and tools used in the development and deployment of apps, sites and other digital products play an integral role in the quality and performance of your product. But it is only possible with a competent team with an understanding of technology stack because your product must be easy to change and maintain, cost-effective, efficient, and scalable.
Tip 4 : Listen to Your App Users: User-friendly and easy for old age or non-tech UX is crucial for the success of your product. So, get the market feedback, and usability insights is key for future improvement. You can also follow UX of top mobile apps who spent millions in research with users that are already familiar with regular and simple UX and include some of those user-friendly features or modify them as per the nature of your product.
Tip 5 : Monitor App download & Try Increasing Active Users: Make sure to focus on good PR, customer services, and stay connected. These are essential with the initial audience as they will be the first folks to spread the word about your product which would bring more people to install and use your app and don't forget to monitor the download rate.
Tip 6 : Focus on Problem Your Product will Solve: A product is built to address user needs and to solve a particular problem. So, the better you understand it, the better you can improve it while keeping it simple at the same time. So, focus on user needs, functionality, and your solution than what your competitors are doing.
Tip 7 : Select your Investor Wisely Before Spoiling the Idea: While it may be hard to find, someone, to invest in your idea, but it is even harder is to find the right investor. So, do research and find out if they will walk the line with you and have the basic foundations and expertise to help build your product. So, educate yourself on the assets and resources different investors can provide before making a decision.
Tip 8 : Prepare Roadmap from the Startup Success to Launching Full App: Make good use of the research that you have done till now because you have all the reviews, and feedback from the users to make your idea into a product that solves their problem. Go for a robust marketing strategy and use mediums that are most likely to get sure results.
Tip 9 : Some Startup Launches Several Times, So, Never Give up until Success: Yes, it's true, sometimes a startup needs to relaunch after improving on the elements holding it back the first time. Path, a social, mobile networking site is an example which faced a difficult first year but succeeded to gain 2 million users within two months of its relaunch.
So, the lesson is not to give up until you succeed. Just keep on paying attention to the core needs of the users and improving your idea because you know what companies like Airbnb and KFC, all faced hard times in their beginning but became huge successes after improving.
Tip 10 : Intension to Help and Contribute Something Best: Always keep the MVP mindset even after you begin to upgrade your product because it will be useful to help you in every aspect of your product development and build something that would really help make the lives of the users better.
Tip 11 : Budget: MVP cost depends on factors like design, features, technology stack, and time taken to build. So, set a realistic budget, don't go cheap or splurge because it is not the final product. To achieve optimal results, plan your MVP and budget together and get services from an experienced company that offers affordable mobile app development for startups.
Conclusion : So, now you know how to launch a successful startup? Entering the market with a new product is nothing short of a risk but our software development company in New York provides affordable startup consulting services. With years-long experience and certified professional team, our company provides brilliant technology stacks for a startup. So, contact us now and be on the path of a successful startup.