What is E-commerce: A Beginner's Guide to Understanding the Basics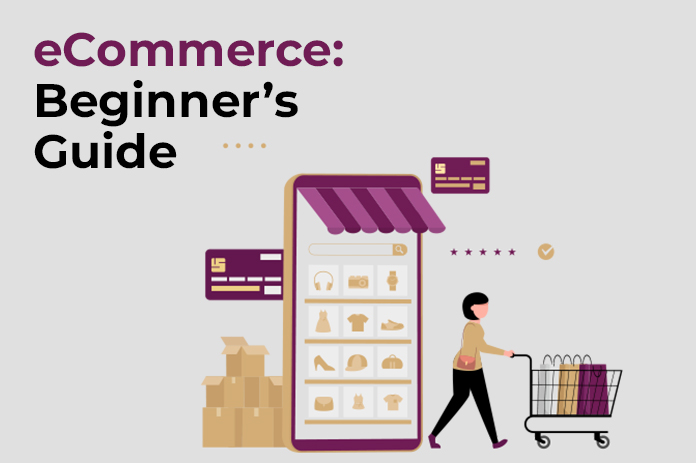 Are you ready to start your own e-commerce business? It is an exciting venture and with the right knowledge, skills, and strategy, you can make it a success. But first things first: what exactly is eCommerce?
In this guide we will provide an overview of e-commerce – from understanding how it works, to exploring the different types of businesses that use it, looking at key components such as payment processing options and marketing strategies.
We'll also discuss regulations and compliance requirements for selling products online so that you can ensure legal compliance when setting up your store.
So. let's get started…
Before we get into more details, let's have a quick fact check to understand why this online business model is in demand and what future it holds –
E-commerce Facts & Statistics
Here are some key facts and statistics about e-commerce in 2023:
The global e-commerce market will reach $5.4 trillion in revenue by 2022, up from $4.9 trillion in 2021.
More than 80% of the online population has used the internet to purchase goods and services.
It is estimated that 95% of purchases will be made online by 2040.
There are an estimated 12 million to 24 million e-commerce sites across the globe.
E-commerce sales are expected to account for 20.8% of retail sales worldwide by 2023.
With e-commerce growing rapidly year after year, businesses need to stay up-to-date with the latest trends and statistics in order to succeed in this competitive market.
What is E-commerce?
E-commerce, short for "electronic commerce," is the buying and selling of goods and services through the internet. This business model allows companies to conduct transactions over electronic networks, such as the internet, mobile devices, or social media platforms.
E-commerce is not limited to just physical goods, but can also be used for selling and purchasing digital products or services.
There are various types of e-commerce based on business models, including Business-to-Business (B2B), Business-to-Consumer (B2C), Consumer-to-Consumer (C2C), and Consumer-to-Business (C2B).
The advantages of e-commerce include convenience, 24/7 availability, access to a wider audience, and cost-effectiveness.
With e-commerce, businesses can reach customers across the globe and reduce operating costs by eliminating the need for brick-and-mortar stores.
Whether you're a startup or an established business, starting an e-commerce store is easy with the right tools and resources. You can even hire a professional e-commerce development company to speed up the online store-building process for you.
As more and more consumers turn to the internet to shop, the e-commerce industry continues to grow. So, whether you're looking to start an e-commerce business or simply want to expand your company's reach, embracing e-commerce is a smart move.
How does this Online Business Model Work?
An e-commerce business operates by selling goods or services to customers online. It allows people to buy and sell products without limitations of geography and time.
If you are willing to start your own online store, then below are some basic key points you need to consider –
Find a product or service to sell: The first step is to identify the products or services to sell and understand the demand for it.
Create an online store: Develop an online store that can showcase the products or services, and is easy to navigate.
Establish payment gateway: Choose a payment gateway for secure and seamless transactions.
Marketing and promotion: Promote the online store through various marketing channels like social media, email marketing, and search engines.
Inventory management: Manage inventory levels and track sales to avoid stock outs and overstocking.
Order processing and fulfillment: Process orders efficiently and deliver them to customers on time for better customer satisfaction.
E-commerce business requires thorough research, planning, and execution for success. With the right strategy and approach, an e-commerce business can help reach more customers and increase revenue.
Types of eCommerce Businesses Models
There are different types of e-commerce business models that businesses can adopt based on their operations, target market, and revenue goals.
Below are some of the different ecommerce business models –
1. Business-to-Consumer (B2C) Business Model
The Business-to-Consumer (B2C) business model is one of the most common ecommerce models. In this model, businesses sell products or services directly to individual consumers.
This model is also known as the traditional retail model, where customers buy goods from online stores.
Examples of businesses that operate under the B2C model include Amazon, Walmart, and Best Buy.
2. Business-to-Business (B2B) Business Model
Another popular ecommerce business model is the Business-to-Business (B2B) model. In this model, businesses sell products or services to other businesses.
This model typically involves larger transactions and is focused on building long-term business relationships.
Examples of businesses that operate under the B2B model include Alibaba, Salesforce, and IBM.
3. Consumer-to-Consumer (C2C) Business Model
The Consumer-to-Consumer (C2C) model involves businesses providing a platform where individuals can buy and sell goods or services to other individuals.
This model is popular among marketplaces such as eBay, Craigslist, and Facebook Marketplace. This model is often used to sell second-hand products, handmade goods, or to offer personal services.
4. Direct-to-Consumer (D2C) Business Model
The Direct-to-Consumer (D2C) model has become increasingly popular over the years. In this model, businesses sell their products or services directly to customers without an intermediary such as a retailer or wholesaler.
This model allows businesses to control their brand message, customer experience and pricing.
Examples of businesses that operate under the D2C model include Casper, Warby Parker, and Dollar Shave Club.
5. Dropshipping Business Model
The Dropshipping model is an ecommerce model that allows businesses to sell products without holding inventory. In this model, businesses typically partner with manufacturers or suppliers, who fulfill orders directly to customers.
This model allows businesses to minimize inventory costs, focus on marketing and let their partners handle product fulfillment.
Examples of businesses that operate under the Dropshipping model include Oberlo, AliExpress, and Printful.
6. White Label Business Model
The White Label model is another ecommerce business model that allows businesses to sell products under their own branding without having to manufacture them.
In this model, businesses partner with manufacturers that provide the products, which the business then rebrands and sells with their own branding.
In brief, there are different ecommerce business models to choose from, and selecting the appropriate model depends on a business's unique needs and goals.
Popular eCommerce Platforms to Build Your Online Store
An ecommerce platform is a software application that enables online businesses to manage their website, marketing, sales, and operations.
If you're looking to build an online store, you'll want to choose an e-commerce platform that suits your specific business needs.
Here are some of the most popular ecommerce platforms to help you get started:
Shopify
Shopify is the most popular ecommerce platform in the world, with over 1 million online stores hosted. It offers an easy-to-use interface, a wide range of templates and themes, and a variety of plugins and apps.
Shopify is perfect for startups, multi-channel sales, print on demand models, and businesses looking for a reliable platform with 24/7 customer support.
Check out our Shopify development services.
WooCommerce
WooCommerce is a free, open-source ecommerce platform that allows users to transform their WordPress website into an online store. It offers a vast array of features, themes, and plugins, making it highly customizable.
WooCommerce is a great option for small to medium-sized businesses that already have a WordPress website.
Check out our WooCommerce development services.
BigCommerce
BigCommerce is a powerful ecommerce platform that's best suited for larger stores. It offers a wide range of features, including multi-channel selling, flexible shipping options, and advanced SEO tools.
BigCommerce is an all-in-one platform that provides customization options without the need for coding skills.
Squarespace
Squarespace is a website builder that includes ecommerce features. It offers a variety of beautiful templates, mobile-responsive designs, and easy-to-use editing tools.
Squarespace is ideal for businesses that want a simple, yet elegant, online store.
Wix
Wix is another popular website builder that comes with ecommerce capabilities. It provides a broad selection of templates and drag-and-drop design features to create a customized online store.
Wix is perfect for beginners who need a user-friendly platform.
Magento
Magento is an enterprise-level ecommerce platform that is highly customizable and scalable. It provides complex features, such as multi-store management and advanced shipping options, making it ideal for large businesses.
The downside is the complexity of the platform, which requires technical skills to operate.
No matter which ecommerce platform you choose, it's essential to consider its pricing, features, and compatibility with your business. By understanding these factors and selecting the right platform, you can build a successful online store that grows your business.
Benefits of eCommerce
Ecommerce has revolutionized the way companies conduct business. It refers to buying and selling products or services online. eCommerce has numerous benefits for businesses.
Here's a closer look:
1. More Efficient Operations
Ecommerce makes business operations more efficient. By automating tasks such as order tracking, inventory management, and payment processing, businesses can save both time and money.
2. Increased Customer Base
Ecommerce opens the door to sell products or services to a global customer base. It allows businesses to reach more customers worldwide, enabling companies to expand their reach beyond their local area.
3. Reduced Costs
Ecommerce eliminates the need for a physical storefront, reducing overhead costs such as rent, maintenance, utilities, and staffing. It also reduces the cost of marketing and advertising efforts through social media, email, and SEO.
4. Improved Customer Experience
Ecommerce provides shoppers with an effortless way to purchase goods or services online.
Buyers can easily find the products they need and compare them, read reviews, and make a purchase without leaving their home. This convenience makes for a better customer experience.
5. Increased Sales
By providing customers with a variety of products, excellent customer service, and a safe payment option, businesses can experience increased sales.
Furthermore, eCommerce provides businesses with the ability to upsell and cross-sell products, thus enhancing sales opportunities.
6. Flexibility
E-commerce allows businesses to be more flexible with their operations since they're not bound by set business hours or geographical locations.
Online stores are open 24/7/365, providing customers with a shopping experience around the clock.
7. Gathering Customer Data
E-commerce also allows businesses to gain insights about the customer's buying habits, preferences, and demographics. This data can be used to create personalized marketing campaigns, improve product selection or enhance customer service.
8. Competitive Advantage
E-commerce provides businesses with a competitive edge compared to traditional brick-and-mortar stores. By providing customers with an online shopping option, businesses can differentiate themselves by offering convenient, safe, and secure shopping experiences.
Payment Processing Options for Online Stores
An essential aspect of any e-commerce business is payment processing. Customers must have an easy and secure payment option to complete their online purchases.
Here are some payment processing options commonly used by online stores:
1. Credit and Debit Card Payments
Credit and debit cards are the most widely used payment option for online shopping. It's a popular choice for both customers and businesses since it's easy and quick to process.
Payment gateways such as PayPal, Stripe, and Authorize.net are some of the most popular payment gateways that provide credit card processing services. These services charge fees per transaction that can range from 2-5% on average.
2. Digital Wallets
Digital wallets like Apple Pay, Google Wallet, and PayPal are becoming increasingly popular for online purchases. Customers can easily pay with their account balance or credit cards linked to their digital wallet.
Digital wallets are secure and easy to use, with a single-click checkout option, which enhances the overall customer experience.
3. Bank Transfers
Customers can send payment directly from their bank account to a business's bank account using bank transfers. This option is popular among customers who prefer to make large transactions or in countries where credit or debit card usage isn't widespread.
However, it's essential to note that bank transfers can take several days to process, delaying order fulfillment.
4. Cash on Delivery (COD)
COD is a payment option that allows customers to pay for their purchase in cash when it is delivered. This payment option is common among businesses that sell products with high-value items, such as electronics or luxury goods.
While this payment option provides a high level of convenience for customers, it also poses a risk of fraud and increased operating costs for businesses.
5. Cryptocurrency Payments
Cryptocurrency payment options like Bitcoin, Litecoin, and Ethereum are gaining popularity among tech-savvy customers. This payment option provides customers with anonymity and security, and it eliminates the need for a third-party payment processor.
However, its adoption by businesses is slow due to its volatile nature.
In brief, eCommerce businesses have several payment processing options to choose from. These options should be chosen based on the target customer base, operating costs, speed of transaction, and security requirements.
By providing the right payment processing options, businesses can enhance the customer experience and grow their revenue.
Strategies to market your business online
In today's digital age, having a strong online presence is crucial for any business. Here are some effective strategies that can help you to market your business online:
1. Develop a Comprehensive Marketing Plan
Creating a strategic marketing plan is the first step towards achieving success in online marketing. A good marketing plan should include these elements:
Business goals and objectives to achieve
Analysis of potential customers
Competitive analysis
Target audience identification
Key metrics for measuring success
2. Optimize your Website for Search Engines
Search engine optimization (SEO) is key to improving the visibility of your website in search engine results pages (SERPs). This can be done through:
Keyword optimization
Engaging content creation
On-page optimization
Mobile optimization
Consistent website updates
3. Utilize Social Media
Social media can help you reach a wider audience and engage with your customers on a personal level.
Here are some ways to use social media effectively for online marketing:
Choose the right social media platforms
Create compelling social media content
Engage with customers through comments and messages
Use social media advertising for targeted marketing
4. Leverage email marketing
Email marketing is a cost-effective way to reach customers and promote your products or services. To make your email marketing campaign effective, follow these tips:
Build a targeted email list
Create compelling subject lines and email content
Personalize your emails
Monitor and track your email campaign's performance
5. Invest in paid advertising
Paid advertising can help you reach a wider audience and boost your brand awareness.
Some popular paid advertising options are:
Google Ads
Facebook Ads
LinkedIn Ads
Instagram Ads
By incorporating these online marketing strategies, you can enhance your brand visibility, attract potential customers, and drive business growth in the digital age.
Regulations and Compliance Requirements for Selling Products Online
Selling products online comes with regulations and compliance requirements that businesses need to be aware of.
Here are some of the main areas that businesses need to consider:
1. Consumer Protection Laws
Consumer protection laws are in place to protect consumers from fraudulent or deceptive practices. These laws vary by jurisdiction and can include requirements for product labeling, warranties, and refund policies.
Online businesses need to ensure they comply with these laws to avoid any legal troubles.
2. Sales Tax
Online businesses are required to collect sales tax on purchases by customers in states where they have a physical presence. This is called "nexus."
The way sales tax is calculated varies by state, and businesses need to comply with the rules and regulations in each state to avoid penalties.
3. Data Privacy and Security
Businesses that collect and store customer information online need to ensure they comply with data privacy and security regulations.
Regulations, such as the General Data Privacy Regulation (GDPR), set out requirements for how businesses must collect, store, and protect customer data.
Businesses that operate internationally must also comply with regulations specific to each country.
4. Intellectual Property Laws
Online businesses need to be aware of intellectual property laws relating to patents, trademarks, and copyrights. This includes making sure that businesses do not infringe on any existing rights of others by using their brand names, logos, or copyrighted materials.
5. Shipping Regulations
Businesses that ship products need to comply with shipping laws and regulations in the countries they operate in. These regulations can cover areas such as labeling, packaging, and hazardous materials.
6. Advertising and Marketing Regulations
Online businesses need to ensure that their advertising and marketing practices comply with regulations.
The Federal Trade Commission (FTC) is responsible for regulating advertising and marketing practices in the United States, and businesses must ensure that they are transparent, truthful, and not deceptive.
Businesses need to be aware of these regulations and comply with them early on to avoid penalties and legal troubles.
Wrapping it up…
In brief, this was all about e-commerce that any beginner who is thinking to enter the industry should be aware of. Knowing these basic details will help you to take your next move toward your online business success.
Now, you just need to pick the right e-commerce platform and start selling your products worldwide right from your home.