WordPress Mobile App Development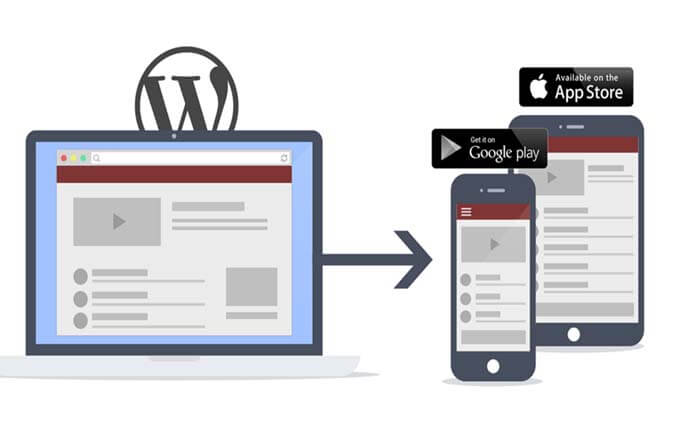 WordPress as Mobile CMS
Internet and smartphone have global impact and has been caused for fast changing era. World has been borderless by digital way, especially for business it matters lot. Smartphone app is direct way to reach to the customers. If you don't have an app for your business you will miss huge opportunities. This is the reason of discussing wordpress CMS for mobile apps.
"No Triumph possible without Technology Today"
WordPress CMS is easy and affordable option for Iphone App Development. It is rapidly becoming the dominant CMS because it is an open source and reliable e-commerce solution. One of the best thing of WordPress is its admin which is highly customizable.

From Web to App:
In today's fast moving era every organization will have to think beyond the skyline as the storm of smartphone applications has literally changed the way of business world. It has made possible for companies to reach each individual easily because mobile device is quite easy to access from anywhere rather than desktop or laptop.
Smartphone apps by WordPress CMS is easy to use plus affordable, to convert wordpress website into mobile app is amazingly easy through free wordpress mobile app plugins like mobiloud, wordapp, mobapper, wptouch, app presser, wiziapp etc.
Hybrid App for WordPress CMS:
Hybrid Mobile App Development is versatile in nature that's why it is multiple platform app. Same as websites on internet hybrid mobile apps are built with combination of web technologies like HTML, CSS3, JAVA SCRIPT which reduces the development cost, time and complexity. Hybrid apps are known for providing steady user experience across multiple browsers and platforms.
Native App for WordPress CMS:
Native app has been developed for use on particular platform which is typically installed such as android or ios. It is written in such languages that platform accepts, like swift or objective-c is used for native ios apps. Java is used for android apps. Apple and Google offer their own development tools. Most popular apps Pokemon Go, Twitter and Waze are fully native apps.
So it was all about wordpress CMS for Mobile App Development. Our developers team expert in Android App Development . To know more about our wordpress services visit us at www.mxicoders.com