Zero Trust Architecture: A Complete Analysis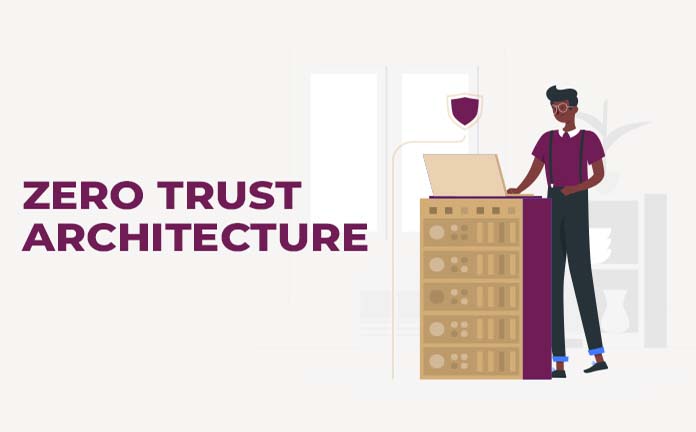 Cyber attackers consistently threaten businesses through various means that can penetrate their security systems. Old defenses are no more effective in stopping the breach or prohibiting the attackers from accessing the whole network, especially in cases of insider threat. This is where the zero security model comes into play with its creed "trust nothing and verify everything".
In the zero trust security model, getting access to any resource within a specified network is subjected to specific trust dimensions or parameters. Access is denied or revoked when something fails to meet those parameters. This security model stands in full contrast to old security models that assume inherent trust within any network edge.
What is Zero trust Architecture?
A zero-trust security model, as described above, makes enterprises resistant to cyber threats by consistently recognizing and removing all uncertainties by imposing rules for security.
Zero trust architecture is crafted with the veracities of the existing threat landscape in mind. Enterprises can't identify and block all threats. Still, with zero trust practices, it is possible to enhance the business security system by executing various ways to allow and control the network.
Zero trust architecture is based on the idea that the cyber intruders are already in the particular network. But with the zero trust principles, an enterprise turns out to be cyber resistant and can easily prohibit the intruder's access to any of its applications, endpoints and servers. The enterprise has to follow the important tenets of zero-trust architecture.
There are seven important tenets of zero-trust architecture that fall into three security domains:
Domain 1 – Permitting Access: An accessor is granted access on what basis or how to determine and authenticate the accessor's identity? In this domain, there are three tenets "Authentication and Authorization", "Observable state," and "Integrity". When these three tenets are not executed properly, unauthorized users might get access.
Domain 2: Monitoring Access: How much or how long the accessor gets access both in terms of activity and time? There are two tenets within this domain "Minimal access in size" and "minimal access in time". When these tenets are not executed rightly, it can lead to a security breach.
Domain 3: Observing and Safeguarding Access: Once the zero trust access practices are properly established, it's time to check and safeguard the access consistently. The two tenets in this domain are "Monitor all access" and "encrypt all access".
All organizations need to manage all these three domains so that their zero trust architecture is secured.
Three Core Principles of Zero Trust Architecture
Zero trust is a united, end-to-end security plan that includes three core principles:
Never believe, always verify: Based on the presented database, always validate and authorize access. Consistent verification is a must, meaning no devices, users or zones can be trusted. Everyone should be treated as a threat to security.
Assume security break: By supposing that your defences have been intruded on, you will able to take some strong security action against all threats, thereby lessening the effect whenever a breach occurs. You can reduce the blast radius by dividing access into various segments and decreasing the attack surface, validating end-to-end encryption and checking your network in real-time.
Allow less privileged access: The zero trust model follows the principle of least privilege, which restricts access rights for all entities and only allows the necessary privilege for performing functions.
Now that you have a good idea of the domains and principles of Zero trust architecture, let's discuss the benefits an enterprise gets from zero-trust architecture.
Benefits of Zero Trust Architecture for Enterprises
When a zero-trust model is executed efficiently, it will go beyond security. It allows businesses to work efficiently, allowing safe, smooth access to all. Some other benefits include the following:
Reducing the complexes of infrastructure
Functioning in a hybrid environment
Working on various devices and various locations
Working in compliance with the internal and regulatory standard
Are there any Barriers to Implementing Zero-Trust Architecture?
Even if there are some apparent security gains for enterprises from zero trust architecture, some obstacles might come when you move to this new security model. With third-party services, many businesses are still struggling to execute zero-trust architecture. So, if you have plans to implement zero trust architecture, you will have to expect and plan for some possible challenges like
Accepting Complicated and Hybrid Environments
Modern organizations possess highly complicated and dispersed infrastructures. Therefore, it becomes challenging for IT leaders to create a zero-trust plan in an environment with hundreds of varied databases, proxies, SaaS applications, servers and internal applications. Moreover, for many companies, getting a network to a particular level that follows zero trust plans needs several configurations and time taking developmental projects.
Utilizing an Assortment of Tools
To construct an infrastructure for supporting the zero trust model, you will have to execute various micro-segmentation tools, identity-aware proxies and many more tools. Vendors supplying those tools need organizations to purchase redundant technologies to support those environments. They can also further complex matters by remaining focused on the network instead of placing all controls near the users and the applications.
Shifting from Legacy Systems
Sometimes, it becomes difficult for organizations to configure legacy applications in such a way that follows zero trust mode. Administrators must make their own infrastructure and frameworks for supporting them. This adds complexity, expense and time and needs buy-in at all levels.
Addressing Various Gaps in Security
Making a transition to zero trust can create various gaps in security that can enhance risk. A lot of organizations make the transition to zero trust over time. Even if this helps manage resources and costs, it introduces some gaps in security.
Management of Cost Constraints
Transferring to zero trust architecture can become expensive, especially when an organization transitions from the legacy system. This implies a long-term, multiple-phase process that needs substantial time and resources.
Maintaining a Balance Between Security and Performance
A zero-trust architecture prioritizes security by restricting access until a user is validated per the protocol. Thus it might put an impact on the workflows and performance.
Tools Required for Implementation of Zero Trust Architecture
For simplifying zero trust architecture, the following tools are very important:
A single sign-in:  This tool will allow users to access all accounts and applications with one set of credentials. This enhances security by removing passwords and enhancing usability and worker satisfaction.
Multiple-factor authentication is an important identity and access management tool that all organizations must use to protect their important IT assets. Users need to use the extra factors to access an app or account.
Adaptive access control: This tool helps monitor user behaviours and update access rights in real-time scenarios. It also uses user and entity behaviour analytics to assess the user risk depending on their activity.
Rapid provisioning systems: When you transition to zero trust, you will require a way to rapidly provision and de-provision users. You might have to make some exceptions regularly by executing minimum privileged access. Things will become more complicated if your provisioning system is time-consuming. So, it's best to execute a fast provisioning system.
Security information and event management: One of the important parts of zero trust architecture. It collects various data sources and alerts from the IT infrastructure of the enterprise. It analyses these activities to recognize suspicious behaviours and creates automatic notifications of some security events.
Protection of device: All user devices or endpoints are the main attack points and the first line of defense. So, always go for device protection tools that give protection and monitor devices to avoid all danger at the source.
Security rating platform: With this tool, you can consistently scan all your environments for new risks. The platform and its ratings offer visibility into all access points and develop a complete risk picture. It also creates some listed alerts and remediation suggestions so your security teams can immediately take action to increase the organization's security posture.
Best Practices for Creating Zero Trust Architecture
Maintaining data integrity: Measure and monitor all owned assets' safety to maintain data integrity and decrease cyber threats.
Collect data for enhanced security: Keep collecting data from various sources regularly to adapt and enhance safety posture consistently.
Consider all data sources and computing devices: Any device with access to any network must be treated as a resource.
Keep all communications safe no matter the network location: All users and devices that connect through various external and internal networks should go through the security requirements to get access.
Give access to a resource based on pre-session: Apply the least privilege, thereby needing users to request access for every session.
Modest access with an active policy: Try to protect all resources with a dynamic and transparent policy that adapts to the developing requirements of the specific network and the users.
Conclusion
So, the future of cybersecurity is zero-trust architecture. The requirement of cybersecurity will always be there for businesses who are trying to guard their consumers, data, IP and employees.
Cyber intruders often sustain chaos, swiftly taking benefit during major disturbances for attacking businesses with weak defense. The worst part is they also try to target enterprises with false cybersecurity and believe that their perimeters are well-protected and not penetrable.
One of the safest ways for all businesses is to understand the limits of the old perimeter-based security system and take their step into the future by executing zero trust architecture.