Blockchain Development Agency in New York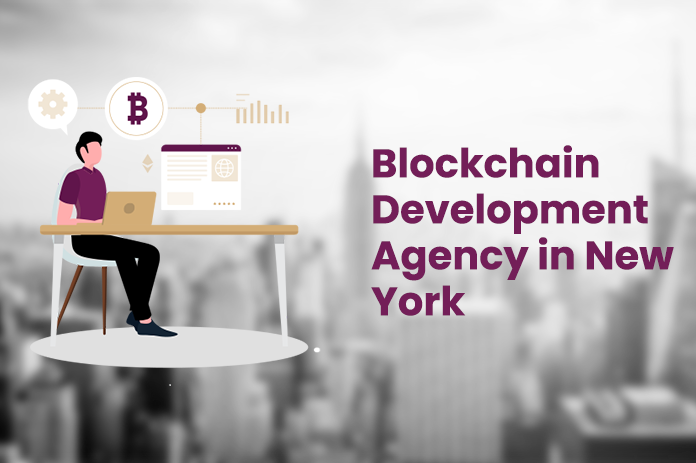 We, MXICoders Inc, located in New York City situated at 38 W48th Street Ste #602, New York, NY 10036, have expertise in Developing Blockchain Applications. As an experienced Blockchain Development agency in New York, we will be discussing everything you need to know about the benefits, challenges, why it requires it, how it can be helpful, and many more.
Blockchain technology has drastically transformed the way we conduct business operations. This crypto-driven technology has changed the narrative of traditional business models by providing tamper-proof transactions, increased transparency, and decentralization.
The rise of blockchain has created a demand for innovative solutions that harness the power of the technology to solve real-world problems. This is where the role of a blockchain development agency comes in.
With the rapidly growing blockchain industry, it is crucial to understand the significance of a blockchain development agency and how it can help you unlock the full potential of this revolutionary technology.
So, let's delve in!
What is Blockchain Technology?
Blockchain technology is a decentralized method of recording transactions on a digital ledger. It allows for the creation of a secure and transparent network where transactions can be verified and recorded without the need for a central authority.
So, In simple terms, a blockchain is a digital database that keeps a secure record of all transactions that occur on the network. Each block contains a record of multiple transactions, and the chain links these blocks together, forming a secure and tamper-proof record of every transaction.
Why Blockchain Development Agency needed these days?
It is required because blockchain technology in modern-day business cannot be overstated. It has the potential to revolutionize various industries such as FinTech (finance technology), healthcare, logistics, e-learning platforms and more.
Blockchain technology helps businesses increase transparency, security, and efficiency in their operations. With blockchain, businesses can streamline their operations, reduce costs, and provide better services to their customers. It is also being used for secure data storage, identity verification, and smart contracts.
As the demand for blockchain technology continues to grow, so does the need for blockchain development agencies. These agencies specialize in developing blockchain solutions for businesses to help them realize the full potential of this technology.
Blockchain development agencies offer a range of services such as consulting, development, testing, and deployment, helping businesses implement blockchain solutions seamlessly.
They have a team of experts who have a deep understanding of blockchain technology and can design custom solutions tailored to meet the needs of each client.
In short, blockchain development agencies play a critical role in helping businesses leverage blockchain technology and stay ahead of the competition.
What kind of Services offered by blockchain development agencies?
Blockchain development agencies offer various services related to blockchain technology that help businesses to leverage the full potential of this game-changing technology.
The services offered by these agencies can be broadly categorized into five types:
1) Consulting
They involve in providing expert guidance to businesses on how to implement blockchain technology to improve their operations and achieve their business objectives.
They also help clients in identifying the areas of their business where blockchain can be used most effectively, selecting the right blockchain platform, and developing a comprehensive strategy for blockchain implementation.
2) Services
Services offering by these companies are aimed at providing end-to-end blockchain development solutions to businesses. These services include designing, coding, and testing blockchain solutions, as well as deploying and maintaining them.
The development agencies use their expertise to create cutting-edge blockchain solutions that can help businesses to streamline their operations, increase transparency and security, and reduce costs.
3) Integration
It is the one of the core services which involve integrating blockchain technology into existing business processes and systems. These services can help businesses to enhance their existing operations by leveraging the power of blockchain without having to replace their existing systems completely.
4) Advisory
Blockchain advisory services entail providing expert advice to businesses on how to use blockchain to achieve their business objectives.
These services can include blockchain research, market analysis, and guidance on best practices for blockchain implementation.
5) Smart Contract
Smart contract services offer businesses the ability to automate complex business processes using blockchain-based smart contracts.
These services can help businesses to improve efficiency, reduce errors, and save time and costs by automating the execution of contracts and agreements.
What kind of Benefits You can get to working with Blockchain Development Agencies?
There are several benefits of working with blockchain development agencies, including:
Expertise
Blockchain development agencies have a team of skilled developers, engineers, and designers who are experts in blockchain technology and its applications.
They can provide valuable insights and recommendations to help develop innovative solutions tailored to specific business needs.
Time and cost-saving
Outsourcing blockchain development to agencies can save businesses time and money in terms of recruitment, training, and infrastructure setup.
Agencies can leverage their existing resources and technology to build an efficient blockchain solution on time and within budget.
Scalability
Blockchain agencies have experience in designing scalable blockchain solutions that can grow with businesses' needs. They can help build a robust infrastructure that can handle large data volumes and high traffic.
Regulatory Compliance
Blockchain development agencies have a thorough understanding of the regulatory landscape and can build solutions that comply with legal and regulatory requirements.
Quality assurance (QA)
Blockchain agencies usually have rigorous quality assurance processes in place to ensure that the blockchain solution is accurately developed, tested, and deployed with minimal bugs and vulnerabilities.
By working with blockchain development agencies, businesses can save time and cost, leverage their expertise, and develop scalable solutions that comply with regulations and adhere to quality standards.
Common Challenges before developing an application by Blockchain Development Agencies
Blockchain development agencies face several challenges before developing a blockchain application, including:
Scalability – One of the primary challenges is scaling the blockchain network to handle large volumes of transactions. As more users join the network, the demand for processing power increases, and the network may become slower.
Security – The security of blockchain systems is critical as it is designed to be tamper-proof. It's a challenge for blockchain developers to ensure the security of the code, smart contract, and private key.
Interoperability – Blockchain technology has several different platforms, and making them work together is a significant challenge. It is essential to ensure interoperability to create blockchain systems that can communicate with other blockchain systems.
Regulations – Blockchain technology is still in its early stages, and many countries have not yet established regulatory frameworks. As a result, blockchain development agencies must go through regulatory compliance to ensure legality and security.
User Adoption – Blockchain technology is not yet widely adopted by the masses. It is a challenge for blockchain developers to create easy-to-use applications that are user-friendly, intuitive, and accessible to the average person.
So overall, blockchain development agencies must overcome several challenges to create a reliable and secure blockchain application that meets the requirements of users and businesses.
Conclusion
The rise of blockchain technology has opened up a whole new set of opportunities and possibilities for businesses of all kinds, and finding the right blockchain development agency can help you take advantage of them.
With the right expertise and experience, a blockchain development agency can help you create innovative new products and services, streamline your operations and increase your overall efficiency, and take advantage of the many benefits of decentralized systems.
Whether you're just starting out or you're looking to take your business to the next level, partnering with a top-tier blockchain development agency can help you realize your full potential and pave the way for a brighter, more prosperous future.
So why not start exploring your options today and see what the world of blockchain has to offer?