BLOCKCHAIN DEVELOPMENT: MXICODERS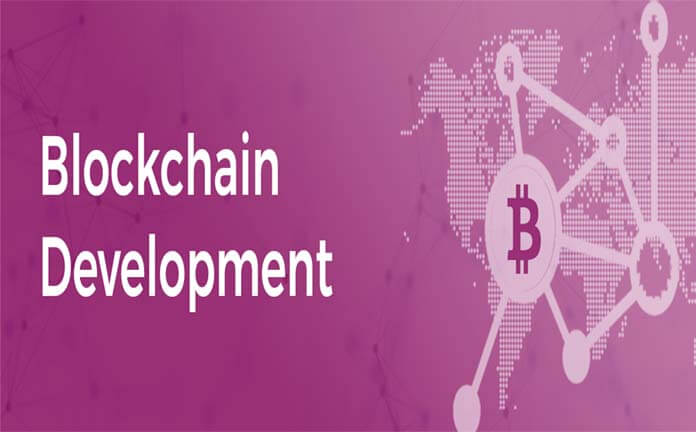 Blockchain development is a digital ledger which tracks the transactions that have been made online, along with the various contracts and agreements. This makes sure that everything that is done online is secure from every end, and no information is leaked out. The basic idea for the development of the blockchain technology was to strengthen the digital currency bitcoin.
Cyber crime or cyber fraud being one of the most common things today is eliminated by the blockchain technology, making it easier for the people to make transactions online. This technology not just restrains to the currency, but also has a role in keeping the bank, enterprise, and educational information highly confidential.
We at Mxicoders provide open source solutions with great outcomes and superior performances. The team of developers build and design the solutions starting from basic, to advanced blockchain pattern. After analysing the requirements, the team of developers helps to meet the blockchain application specifications.
Crypto-currencies have created a whole new buzz across the businesses, and are in high demand. As these crypto-currencies are all digitised, many of them believe that blockchain technology can bring about a change in several markets.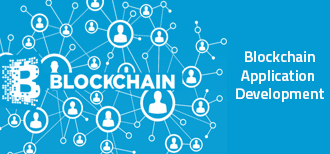 Blockchain technology allows particular information to be circulated digitally, but not copied. It makes sure that all the information is confidential and secures the business in the long run. Blockchain is a way to bring everyone to the highest level of responsibility. There is no scope for any errors, may it be by humans or machines, and everything is totally secure. It helps in recording every transaction not only in the main system, but also in the connected distribution of systems, that are connected through a very secure method.
Blockchain & Social Media
As there is a rapid growth in the social media off late, people believe in spreading their business online looking at the same. There is more scope in the growth of business if it is boosted well online, because of the advancement in technologies. The brands believe in connecting with their audience online, that is, through social media, and this needs to be done in a very secure manner.
The social media has made it so easy for the brands to reach out to their audience very conveniently, and sell themselves to them. This is done by tracking down the people through their location, and showcasing the web-advertisements that the brands want to get promoted. This helps in expanding the small and medium-sized business, and helps them be in the competition for the long run.
The Security of Blockchain
As mentioned above, the blockchain technology makes sure that every transaction that is being done, or anything that is being done online is secure. The 'password' to anything would not help in securing what one does online, as there is a huge scope of cyber crime for the same. One must make sure to use the blockchain technology, in order to protect their identity.
Crypto-currency
Crypto-currency is basically a digital currency that acts as an asset and is used as a medium of exchange. It uses cryptography that secures and verifies every transaction that is being made.
The crypto-currency is something that was introduced in the early 2009, which was completely decentralized; this means that there was no controlling authority involved, and no servers as well. Making transactions in such a case was not secure at all, and there were high chances of a cyber fraud. To make sure everything was secure, there were proper records needed to be made. This could be done only through a third party, and this is where the blockchain technology came into action.
Uses of Crypto-currency: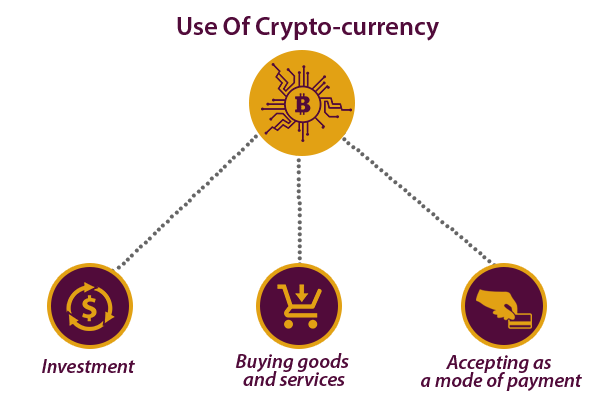 The crypto-currencies are something that has been used as a global means of payment off late. There are various ways through which this currency can be used:
Even though the crypto-currencies are a high risk investment, there are people who do the same. Their market value fluctuates a lot, making it very risky for the people who had initially invested in them. To prevent these investments from getting hacked, the blockchain technology is very important. Before making the investments, one must always make sure to check the market value of the same, in order to make sure they do not go into a loss.
Buying goods and services
Buying goods and services through the crypto-currencies has become a very regular thing. These transactions somehow need to be recorded and kept a track up on. This is where the blockchain technology is used. There are vendors who are offline and online that accept these crypto-currencies as a mode of payment for the goods or services.
Accepting as a mode of payment
As far as a business is concerned, the crypto-currencies can be accepted as a mode of payment. In some countries, making a payment with crypto-currencies is the same as making a payment as cash, and this make it so convenient for a lot of people to trade businesses.
Why People Invest in Crypto-currency
Investing in crypto-currencies has made it really easy for the people to trade money. May it be an alternative to accepting cash or to invest in something, the crypto-currencies have made it to the top. There are many people who have been investing in the same for the longest time, and here are a few reasons why they have been doing so:
Making transactions online needs a lot of security and the blockchain technology is here for the same. Making transactions with the crypto-currencies have now been made secure for the people, as all the transactions are being recorded, without anything being leaked out. This adds on to a lot of security to the entire process of trading of crypto-currencies from around the globe.
Looking at the way it has been growing worldwide, the crypto-currencies have a really good future. For the people who are not investing in it now thinking that it isn't worth it, would definitely invest in it, in the future. Even if the market value of these crypto-currencies keeps fluctuating, it is always on the higher side, making it stay for a longer period of time in the market.
People think a hundred times before investing in something. But crypto-currencies are something that people do not have to think twice before investing in. All they have to think about and keep in mind is the current market value of the same, so that the investment is being done at just the right time. It is slowly and gradually becoming the easiest way to invest in something across the globe.
For the amount of security that crypto-currencies need, blockchain development is a must. As mentioned above, these currencies need a special eye to protect them, so that there is no cyber-fraud that is being done. This makes sure that every entry and every record has been kept securely, and no third person has the access to it. This way, all the transactions are recorded, but no one can actually see it. This makes it so much easier for people to make payments using these currencies, and at the same time be totally secure of the same.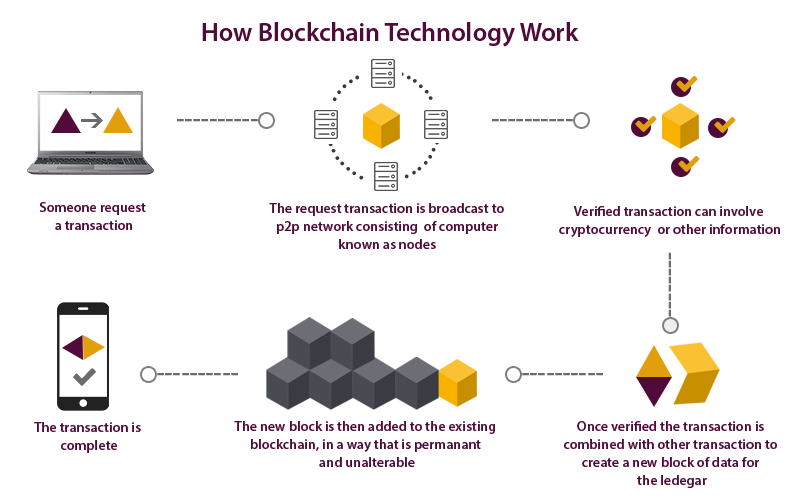 Blockchain Development Company USA | Blockchain Development Company
Incredible Uses of Crypto-currency & Blockchain Technology
There are a number of agencies and start-ups that want their own recognition among people. For them to grow big, they need certain amount of funds so that they can fulfil the needs of their customers and grow in the industry. This does not happen very easily, and needs a lot of time, patience and money. But where does this money come from? Well, it comes from the funds that they had pitched in for. The crypto-currencies being in high demand off late can be used to raise funds for these organizations, and they can eventually have a positive growth in the market.
Investing money in something is one of the biggest examples of wealth management. These investments must be done very carefully into crypto-currencies, as it all depends upon the current rate of the same. Before investing, it is always advisable to check, in order to create any havoc. Through the crypto-currencies, the wealth must be managed very wisely.
In certain countries, crypto-currencies are being accepted as a form of payment. This is one of the most growing forms of investment of these currencies, and is eventually gaining fame worldwide. Using these currencies for education has become so convenient for most of the people in a few countries, and this is something that can absolutely change the future of the mode of payments.
As mentioned above, crypto-currencies have been used to raise funds for taking the businesses to new heights. But one need funds to kick-start a business too. This is where these currencies help in building up businesses. The crypto-currencies and the blockchain technology has made it very easy to track down all the transactions for a new start up, which would make it easier for the people to track all the transactions at one go.

There are many ways by which the crypto-currencies have been helping the businesses grow worldwide, and help them become day by day. It is not just the currencies that have been helping them grow, but it is also the security that they have been getting with the help of the blockchain technology that secures every transaction that is being done.

These currencies have been slowly and gradually gaining popularity, and there would be a day when people would use just the crypto-currencies in order to make their payments. The world has been revolutionizing, and there would be a big change in the way everything functions, without anyone knowing it.