Features Of Web Application Development Company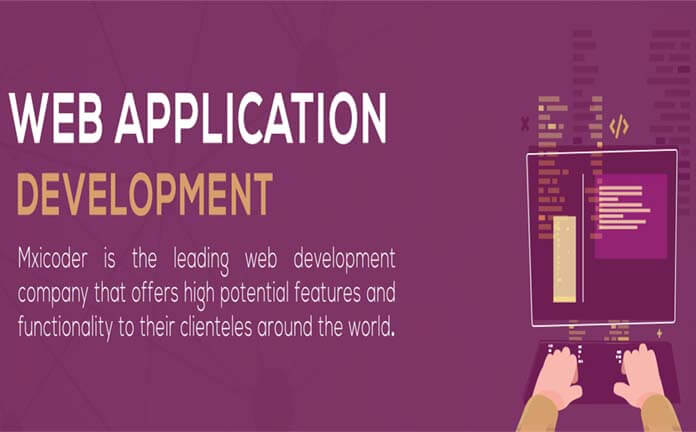 Web Application Development
Web applications are nothing but dynamic web pages that coalesce with server-side programs in order to facilitate a score of advanced functionalities such as user interaction and access to the back-end database to deliver superior UX. With comprehensive experience in web application development, frameworks and industry best practices, we at (BRAND) have been trend stters in this space ensuring our customers experience digital transformation in the most robust form.
Having provided superior technological solutions across online banking, social networking, e-commerce, interactive gaming, blogs, content management systems, we have developed a long-standing association with our customers and would be delighted to extend the same standard of delivery and unrelenting pursuit of quality to you and your business.
Web Applications Lifecycle
We at (BRAND) believe that engaging multiple teams in the development process with their intrinsic set of talents and proficiencies will enhance to end product. Hence we subscribe to the agile system of web application development. With iterative development processes and practices that allow easy revisions and continuous evolution of development requirements, agile empowers us to constantly endeavour to improve.
With the agile system, we at (BRAND) aim to seamlessly execute research & analysis functions, along with project management, design, programming, collaborative and simultaneous testing followed by a comprehensive maintenance framework.
Product Announcement (copy) on Biteable.
Below is a comprehensive outline and procedural framework of our application development process, factoring in best practices in the web development space:
Defining the application, its purpose and goals
Researching of required functionalities, audience scope and security of the application
Extending requirements, security features and web application purpose to chart out a feature summary with specifications for all functionalities of the end product
Drawing out a project management manual, with the teams involved along with their piece of ownership, responsibilities and duties in the entire development story

Selection of the optimal technology platform, charting out the optimal architecture and structure of the application, illustrating in diagrams the features and UI of the application, ascertaining the approach to development, maintenance requirements, versions control,  back up specifications, potential upgrades etc
Ascertaining if there is any requirement of the services of a third     party vendor in terms of payment gateways, SSL certificates,merchant accounts, visitor analytics software, fulfilment centres,third-party check-out systems etc. Undertaking a thorough study and choosing the best suited third party vendor
Visual and UI features of the web application including design, layout, navigation and wireframing
Database structure and features, accessibility and robustness. Security of databases and cloud storage are also considerations to be checked
Testing from a QA, maintenance and security perspective along with load stress and usability structure. Bug testing, multi-browser compatibility and usability
Maintenance requirements of the application – frequency of     maintenance and activities involved in a standard maintenance cycle
Diversity is Fundamental to Us
We possess a skilled and diverse team that brings with them their own area of skill and expertise. Trust us to deliver the very best to your in platforms such as HTML, CSS, Ruby on Rails, JavaScript, PHP, Ajax, Dojo Toolkit, MooTools, Python, Perl and many more. (BRAND) truly is your one-stop solution to anything and everything to do with web development!
Program Libraries
We house with us a host of program libraries that are nothing but frequently used functions or classes making sure we can factor in changes or modifications and deliver products to our clients in record time. With our rich experience across a variety of industries and countries, our program libraries are vast and rich in comparison to our competitors, making sure you reap the benefits of our experience.
Web Application Frameworks
We at (BRAND) strongly believe in delivering differentiated products and experiences to our customers. Our talented team is a bunch that breather web development and is passionate about pursuing excellence in development and delivery. In order to ensure efficiency and pace, we bring together in various resourceful and proficient architectures a set of tools, program libraries, components, platforms and ready bits of code thus enabling our developers to build and maintain complex web application assignments with ease and agility.
We dissociate program logic from HTML, CSS and design files enabling extremely seamless design and interface changes. These are some of the industry best practices that form the very core of our delivery process.
Coding Guidelines
Coding guidelines, simply put, are a set of standards or rules that help to make the entire coding process a streamlined and agile one. It extends its reach to the complete activities in coding from folder structure, indentations to names and functions. Our team follows the coding guidelines to the T thus ensuring maintainability, easy version management and readability and enabling multiples team members to work on a project together leading to faster turnaround time. Trust us to factor in the all the nuances to web development to provide you with an unprecedented experience with us.

Keeping Pace with Industry Trends
ing tremendously. Every brick and mortar company is looking to go digital and existing
The demand for companies to build web applications is growiing tremendously. Every brick and mortar company is looking to go digital and existing .The demand for companies to build web applications is grow online players constantly require upgrades and feature enhances. Information, options and resources are in abundance. Many organisations that are traditional over the counter businesses are today looking to take advantage of the versatility and flexibility of web-based applications.
It also throws up an untapped pool of potential customers. Hence it is imperative that industry inclinations and ever-evolving business trends be factored into web applications. This is only possible if organizationals and web developers alike invest considerable effort and time in creating new architectures, platforms and approaches. We at (BRAND) strong believe in this cause and hence channelize our energy into getting better at what we do.