Venice Swap: A Revolution with Blockchain Technology for Easy Trade, Swap, and Seamless Crypto Experience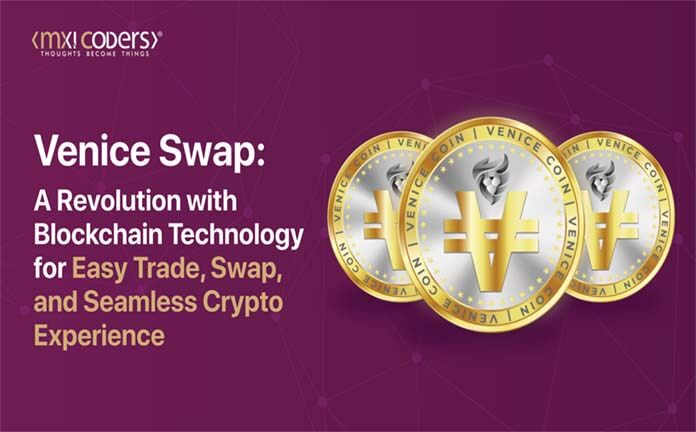 The rise of blockchain technology and its popularity amongst the crowd compelled many entrepreneurs to jump into this domain. This is why there is a flood of cryptocurrencies, exchanges, and other related resources. 

The new addition to the list is Venice Swap. It is a highly inventive platform which intends to make the cryptocurrency experience more seamless than ever. Let's figure out what this initiative is and how it is changing the face of the cryptocurrency landscape.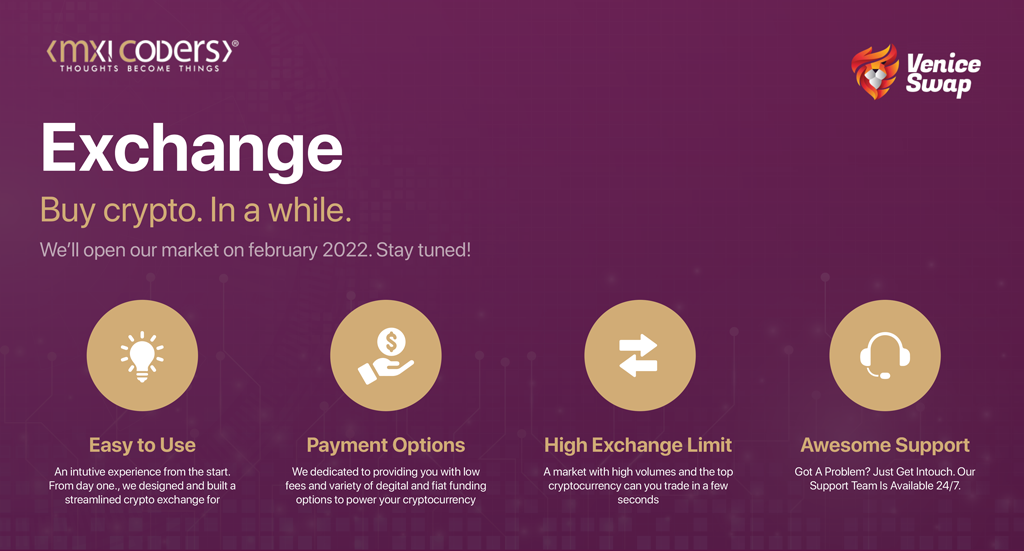 The Business 
Venice Swap is basically a movement to make cryptocurrency trading seamless by all means. By offering services like decentralized exchange development, fintech consultation, and multiple blockchain-based applications, this start-up is working hard towards the betterment of the crypto experience for end-users and traders.
Dealing with crypto is not easy for everyone and Venice Swap understood the existing skill gap in this domain. This is why it proffers all the leading and essential tools over a centralized platform and curbs the crypto-dealing hassles. 
As we can clearly see, Venice Swap owns its name from the extraordinary Republic of Venice. Other than its serene beauty, the place is known to be the originator of the modern stock exchange. With Venice Swap, a new era of crypto exchange and cryptocurrency is likely to begin. 
Speaking of the offerings, the two key products of Venice Swap are:
A centralized crypto exchange is useful to have a seamless trading experience in crypto-crypto and crypto-fiat currency 
A decentralized swap app making crypto-crypto trade in the Ethereum blockchain possible 
The company is likely to launch its Crypto Exchange and DeFi Swap in Q1-2022. So, those who are willing to embark on a journey of smooth crypto trading must hurry up and register on veniceswap.com today. 
Venice Swap: Background & Team
It takes ages to shape an idea. But, when you have the right team, ages turn into a few years. 
In June 2021, the idea of coming up with a diverse, user-friendly, and secure cryptocurrency trading platform came into being. 
In July 2021, a highly competent and driving team was formed the legal model of the platform by September 2021. 
The hard work invested by the team made the launch of Venice Coin possible by December 2021. And, at the beginning of the New Year, the team started the extensive testing of the platform. 
Now, the team is ready to launch the Venice Swap Exchange by the end of February 2021 while the launch of the Venice Swap Decentralize app will happen in April 2022. 
The kind of perfection and utility VeniceSwap brings to the table demands exceptional expertise and commitment. Additionally , the brains behind these exceptionally good platforms are: 
Gianluca Busto – The CEO and backbone of this promising fintech consultant company. With more than 20 years of excellence, he is shaping the organization with perfection. 
Ashok Rathod – The quality that Venice Swap achieves in Fork uniswap ,pancakeswap , quickSwap, and other swap is because of the unmatched cryptocurrency expertise of Ashok Rathod, the project leader of this blockchain development company.
Hitesh Solanki – He is the man behind the blockchain and cryptocurrency technology that blockchain development company brings to the world.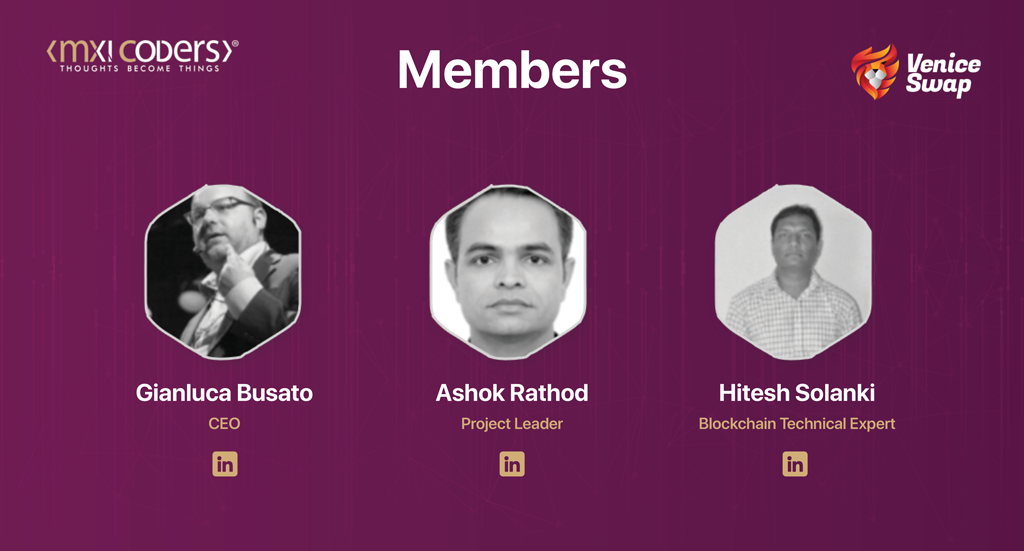 IEO: Initial Exchange Offering
Those who have an interest in IEO can start their journey with Venice Coin. It is the utility token for Venice Swap users. Also, all the transactions relating to the distribution of credits will be done using Venice Coin only. Additionally, Venice Swap offers a Private, pre, and crowd token sale facility.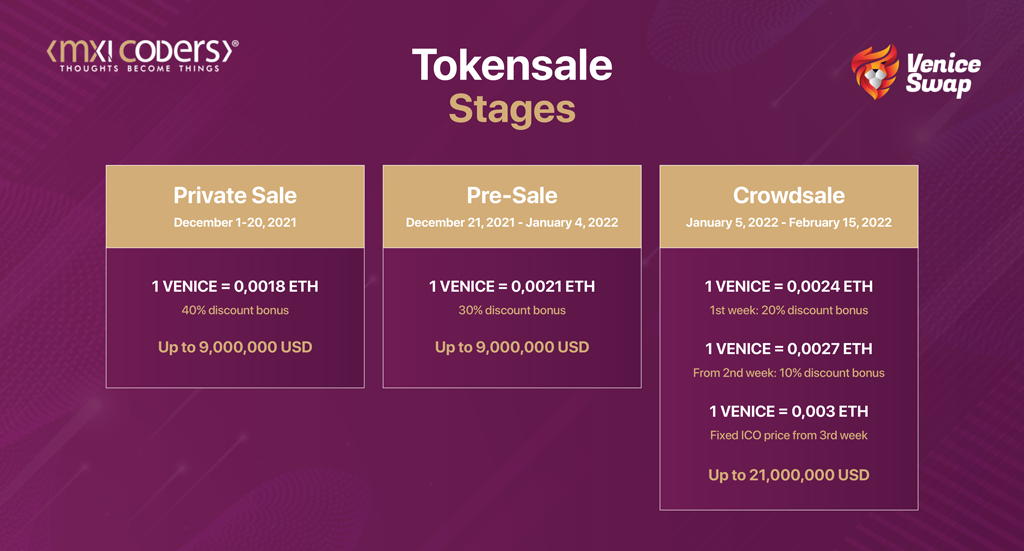 It's the Token Development Company that can build coins like this and enable them for use in the market if you are wondering how to go about it.
The Decentralized Exchange
Venice Swap will present a highly feature-rich and secured decentralized exchange for traders and clients. The exchange offered is a peer-to-peer system backed by a powerful protocol. Hence, Using this decentralized exchange platform of Venice Swap, crypto traders and investors can get rid of the involvement of intermediaries. 
Some of the distinct markers of this decentralized exchange are: 
The order book is replaced by Automated Market Maker (AMM) 
Unlike outdated and traditional decentralized exchanges, Venice Swap features AMM that is based on a liquidity pool of two assets.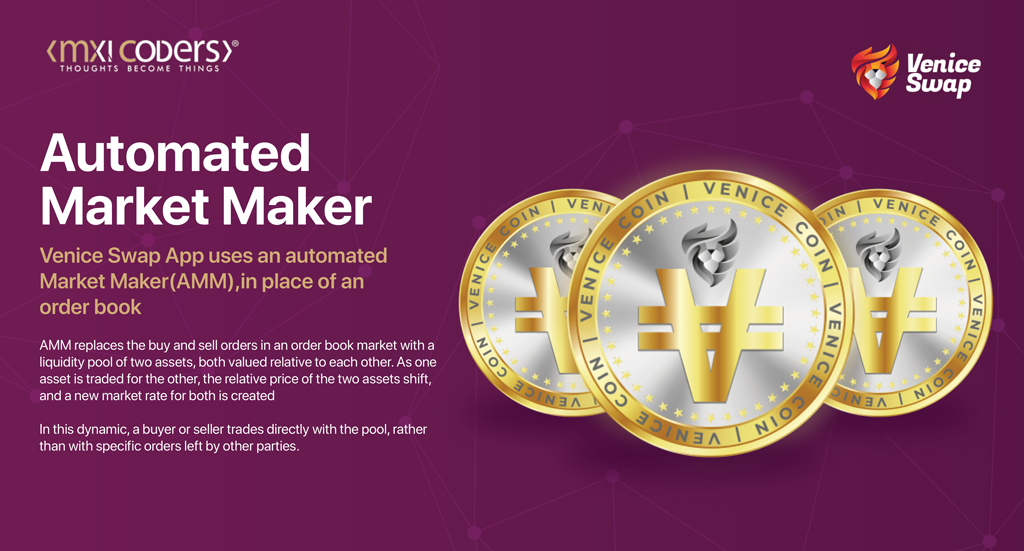 In AMM, two assets are used for inter-changeable trades that lead to price changes for both assets. So , This way, one gets the new market price of both the assets. This sort of crypto trading ecosystem permits traders to deal with huge crypto trades. 
Permissionless experience 
What makes Venice Swap a feature apart is the permissionless trading design, which is missing with traditional decentralized crypto exchanges. Also,The services of the platform are open to everyone permitting traders to explore all the crypto investment options. Furthermore, anyone can use the app, swap digital assets, and offer liquidity. It even allows creating needs for marketplaces for trading. No unwanted restrictions are imposed on the traders. 
The decentralized platform of Venice Swap has scope for three types of users. Liquidity providers, traders, and developers. 
Each user type has been granted equal growth opportunities. Also, the transparent interactions between these three users generate a highly positive feedback loop. 
Read More: India Budget 2022 with Digital Currency and Tax Guidelines on Cryptocurrency
While traditional decentralized platforms have to deal with confusing language for token pooling and trading, Venice Swap offers its end-users a highly defined means of communication among all three user types that support rapid and hassle-free token trading. 
The Centralized Exchange
As quoted above, Venice Swap offers a highly ingenious centralized crypto exchange using which prospective crypto investors and traders can transact in the world's topmost cryptocurrencies.Also, as the powerful encryption and security features back up a centralized exchange, incidences like data theft and failed transactions have nearly zero probability. 
The platform is so user-friendly that first-time investors can also trade in cryptocurrency like a pro. A simple sign-up is what you require to start your crypto investment journey. Also, the centralized exchange provides detailed order book liquidity reports for wise and mindful investment. 
Deposit, withdrawal, portfolio management, and digital asset tracking sort of actions can be done from a centralized place. 
There is one more unique aspect of Venice Swap's centralized exchange as it is a low processing fee along with multiple fiats and digital funding options. So, you can transact more, enjoy a higher profit percentage, and diversify your investment. The exchange also has a high exchange limit giving you the freedom to invest more and more.